Students, staff and faculty: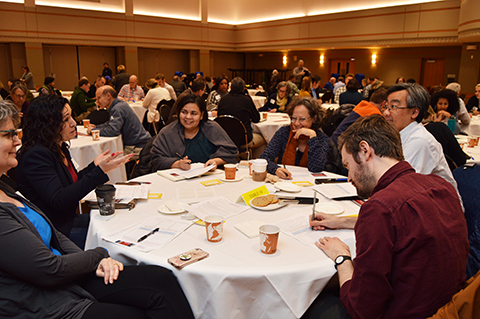 A few weeks ago Chancellor Girod invited campus to take part in Visioning Day as part of strategic planning for the University of Kansas. The words "strategic planning" are enough to send many people running in the opposite direction, and that's why I'm so thankful for what happened that Friday afternoon.
More than 250 faculty, staff, and students attended in person and roughly a thousand watched the chancellor's presentation online. It's confirmation that people at KU care about KU and want to be involved in its success and want to be involved with each other.
I'll share more about the feedback from Visioning Day in the weeks ahead, but right now I'm thankful for all who took time from their day to become better informed, to network, and to contribute.
Contributions to our campus and work environment come from all corners, happen at all hours, and can look very different. I asked a number of colleagues to tell me about people they interact with who give them reason to be thankful and why. I received many more responses than I can share here, but I want to make sure you are aware of a few of the people and teams that give their best effort to the KU community.
In no particular order, this is us.
Individuals: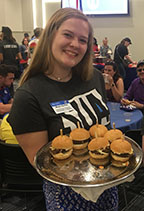 Megan Bartlett is a senior studying marketing and management, and her involvement in Student Union Activities has helped shape campus. As SUA vice president of development, Megan has staged hundreds of student events that bring the campus together. And as Memorial Corporation president she oversees the proper operation of union services and facilities.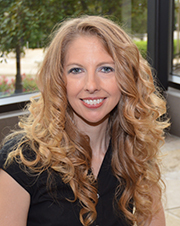 Angie Loving, associate director of human resources for recruiting and compensation, has built a strong and collaborative HR employment team. She is welcoming to and caring for colleagues within her team, more broadly in Human Resource Management and across campus. Angie is very knowledgeable of KU people, systems, processes and operations, and is willing to intervene and collaborate to make our people, systems, processes and operations even better. Aside from striving to make KU a great place to work and learn, Angie is dedicated to the HR profession, and is the College and University Professional Association for Human Resources Kansas president.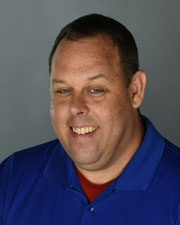 Jeremy Whetstone is senior operations manager for Building and Event Services at the Kansas Union. He helps make sure events run smoothly and is on call to address issues and ensure the venue is at its best regardless of the nature of the occasion or activity. Jeremy has eagerly and effectively served members of the KU community and Kansas Union patrons for over 20 years. His boss says Jeremy is the unofficial face of the Union and concierge to the campus.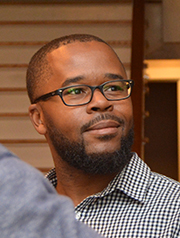 Kevin Joseph, director of assessment and strategic initiatives in Student Affairs, oversees assessment efforts that inform programs, services, and resources through Student Affairs. Kevin works on retention strategies for students of color. He's also responsible for developing The Connect, a recurring student event that celebrates the successful completion of another month of classes. Students enjoy food, music and learn about campus services or opportunities to get involved.
Mike Denning, director of Graduate Military Programs, pursues around five or six U.S. Department of Defense grants for KU each year. His extensive knowledge of KU and its programs helps the university find distinct opportunities to partner with all branches of the Armed Forces and includes cybersecurity credentialing programs for ROTC and regional military. His office is currently working to expand availability of KU language elective courses at Fort Leavenworth's Command and General Staff College. Mike also serves as president of the 4,200 strong KU Veterans Alumni Network.
Leticia Gradington, director of Student Money Management Services, helps students better understand their finances and how they can make sound decisions that avoid short-term and long-term financial problems. Her work helps students stay in school by being more money-aware. She and her office help individual students understand the financial opportunities and risks and help them develop a financial well-being plan for the future. Leticia also oversees programs to improve financial literacy on campus.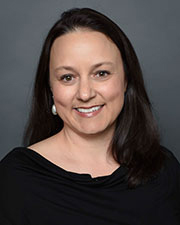 Belinda Sturm, interim associate vice chancellor for research and professor of civil, environmental and architectural engineering, is a highly regarded environmental engineering scholar and instructor. In her Office of Research role, she provides support to five of KU's designated research centers and serves as liaison to both KU Governance and the EPSCoR program. As an engineering professor she researches a variety of issues tied to water quality and wastewater treatment, including microbial ecology, the effects of microplastics, and algae technologies. As advisor to the American Water Works Association student chapter she ensures future generations are involved in water quality issues, and are also raising awareness throughout the region.
For more than 45 years, Virginia Nichols, a statistical and information officer in Analytics and Institutional Research, has provided data to individuals inside and outside the university. Over the years, she compiled the university Factbook (KU Profiles) and documented a numerical history of the university in terms of enrollment, faculty and staff counts, and much more.  Whenever a department or administrator asks: "Can you tell me what happened year X?" Virginia is the go-to researcher. She also submits data to U.S. News, Times Higher Education, and other entities with a meticulous eye to ensure KU is presented accurately and in the best possible light.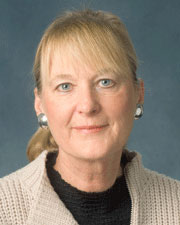 Barbara Timmermann, university distinguished professor of medicinal chemistry, is an accomplished natural products researcher, who has shifted a significant amount of her professional efforts to providing a supportive, dynamic environment for scientific growth and personal and professional development of young scientists in the Department of Medicinal Chemistry in the School of Pharmacy. She remains active scientifically through leadership positions at the NIH, but uses her knowledge, skill, and accomplishments as an educator and researcher to influence the lives of junior faculty. Dean of Pharmacy Ron Ragan shared this praise, "I am thankful Barbara is at KU for the impact she has on scientists in general, but more importantly the extraordinary role model she is for all female scientists in the state and nation."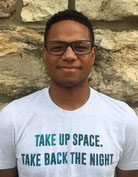 Social welfare student and McNair Scholar Zyrie Berry-Hendricks was commended for his leadership, dedication and follow-through on social justice initiatives. The School of Social Welfare's Diversity, Equity and Inclusion Council has been very active developing creative and consistent programming for KU and the larger community. Zyrie, a leader of the student section for the council, is dedicated and passionate in his role and has been a leader within the school. His work has made it possible for the school to follow through on initiatives that directly align with its mission and values and further position the school as a leader.
Throughout his career at KU, Owen Mallonee, an HVAC technician senior, has been an exemplary employee in the HVAC shop. His supervisors regard him as one of KU's most proficient technicians. He can be counted on to go out of his way to help, teach and assist others. Shawn Harding, director of Facilities Services, shared this praise, "We are truly thankful to have Owen as part of our team."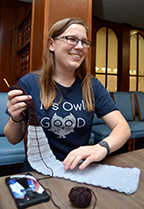 Hailey Solomon, a senior in civil engineering, gained viral folk-hero status recently when she was seen on national television crocheting during a KU football game. Her story is much deeper than what most Americans saw on social media. She attended the game because she knew her advisor, Associate Professor Matt O'Reilly would receive the H.O.P.E. Award during halftime and she wanted to be present during his recognition. His interaction with Hailey had provided valuable life advice in addition to curricular guidance and she was there to show her appreciation. Her craftwork has a story, too. Hailey is co-founder of KU's Warm the World club that meets regularly to knit and crochet hats, scarves, and blankets for the homeless. The club also teaches anyone interested in learning these crafts.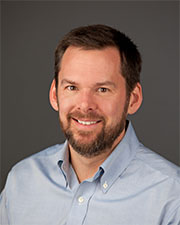 Ben Eggleston, professor of philosophy and associate dean for administrative affairs in the College of Liberal Arts & Sciences, works on a variety of organizational obligations and also takes on some of the challenges. He regularly interacts with chairs and directors in the College and always manages to give everyone a fair shake. He approaches all members of the KU community with respect and dignity. In addition to his administration role, Ben continues to teach and to conduct research, including some interesting work on the ethics of climate change. Since arriving at KU in 2002, he has chosen a path of service and involvement. For his department he has been a director of graduate studies, a director of undergraduate studies, and the chair; he's also served as past president of University Senate. He's been recognized for his teaching and service, and recently was recognized by the Office of Diversity in Science Training.
Teams: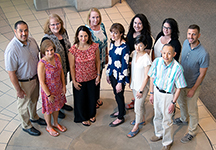 The entire staff of the Center for Online and Distance Learning was recommended for recognition for the center's efforts to make online courses accessible and inclusive for all learners. The staff has gone above and beyond to create captioned videos and course documents that can be recited by screen readers. Staff members have also built new relationships with offices across campus to ensure students are connected to the resources they need to be successful. They have also spent the past year creating resources for faculty to help them learn the concepts of accessible course design and high-quality online teaching. Center Director Laura Diede added "The CODL staff has truly done a tremendous job, and I'm very thankful to be able to work with such a talented and motivated group of people."
The Black Law Students Association gives back to the community in a variety of ways. One of their projects has the added benefit of engaging the entire School of Law. Every year BLSA collects food and personal care items for regional nonprofit organizations. The 2018 effort produced a record-setting two tons of donations — nearly 7,200 items — and $1,890 in cash. The 29th annual BLSA Thanksgiving Food Drive just ended this past Friday. The group uses a winning strategy of encouraging participation through a friendly competition between 1L small sections, student-led publications, faculty, staff and upper-level classes. This year the donations will benefit patrons and clients of Just Food and Willow Domestic Violence Center in Lawrence, and Triple H Community Outreach in Kansas City, Kan.
The ADA Resource Center for Equity and Accessibility has a new collaborative ADA team in place to assist campus with accommodation, accessibility and inclusion. The team's three members — Accommodation Specialist Abby King, student and Outreach Coordinator Katelynn Schultz and KU IT Accessibility Coordinator Kit Cole — help KU employees better understand accessibility issues and navigate the accommodation process by providing information, guidance, consultation and technical assistance regarding requirements and procedures. The team has expanded KU's accessibility social media presence, which provides updates to service outages that affect building climate, services, and navigation. It has also ramped up programming — and attendance — at the regular Lunchtime Conversations on Equity and Inclusion. The team also coordinates and supports KU Information Technology on issues of document and website accessibility, and assistive and adaptive technology supporting course content, classrooms, computer labs, and other campus technology.
The small and influential Sexual Assault Prevention and Education Center Team generated notes of appreciation for its work with the Leadership Studies program to pioneer the increasingly popular Gender Based Violence Prevention series of courses available to students. The four courses help students become more aware of issues surrounding gender-based violence, including bystander intervention, the role of drugs and alcohol in gender-based violence, sexual orientations, sexual health, sex positivity and healthy relationships, systems of oppression, social justice, prevention, accountability and more. SAPEC Prevention Coordinator Sony Heath also received commendation for spending countless evenings meeting with members of KU's fraternities to increase their awareness of gender-based violence.
More Than a Job
KU's size and level of activity may, at times, make it hard for all of us to see efforts and interaction across the university that improve our community, our workplace, and our world. It's clear to me that KU has great people who strive to contribute to the community's advancement in significant, meaningful, and personal ways. And for that — for you — I'm thankful.
Carl
--
Carl Lejuez
Interim Provost and Executive Vice Chancellor
Follow me on Twitter at @KUProvostCarl and the Provost Office at @KUProvost. Join the office on Facebook at /KUprovostoffice/. Join the office on Instagram at /KUprovost/.
This issue of Provost's Message as well as past messages from this office can be found on the Provost's Message web page25.