Estimated reading time: 5 minutes, 39 seconds
Students, staff, and faculty,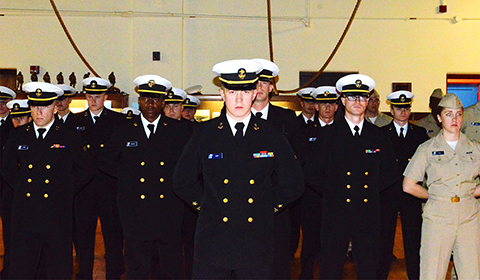 Veterans Day can be a heartfelt occasion as we consider the contributions and sacrifices of members of the U.S. Armed Forces. It's also a day that inspires us to evaluate how the words "Thank you for your service" pair with our programs and activities at the University of Kansas.
It is easy to watch an ROTC color guard present the flags at sporting events and believe KU is engaged and doing its part. These poignant, but brief, ceremonies barely begin to reveal the depth and breadth of KU's ties to those who've sworn to support and defend the American Constitution.
KU educates our country's active-duty military, veterans, and ROTC cadets and midshipmen: Those who are serving, those who have served, and those who will serve.
Those Who Are Serving
KU has a strong partnership with the U.S. Army's Command and General Staff College at Fort Leavenworth.  Since 2011, our School of Business and the Center for Global & International Studies have offered graduate programs at Fort Leavenworth. Since then, 600 mid-career officers have earned a graduate degree from KU. These same officers now serve the United States in some of the most demanding and challenging conditions and positions worldwide. In 2018, KU extended its support to Fort Leavenworth and the surrounding community with three new graduate degrees offered at a convenient location in Leavenworth.
In 2013, the Department of Defense designated KU its eighth Language Training Center (LTC) in the nation. The Defense Language & National Security Education Office funds LTCs to partner with military units that are preparing to deploy overseas and have education requirements. Faculty in the School of Languages, Literatures & Cultures, which offers over 40 languages, have provided critical pre-deployment language and cultural knowledge courses to units from the 1st Infantry Division at Fort Riley, the U.S. Army's 10th Special Forces Group at Fort Carson, CO., and two U.S. Air Force Mobility Support Advisory Squadrons.
Each year, 50-60 Soldiers, Sailors, Airmen and Marines prepare for positions of increased responsibility within the military by attending one of KU's highly regarded graduate programs. They attend KU's School of Law and Schools of Medicine and Nursing to prepare for careers as military judge advocates, surgeons and nurses. They pursue MBAs with certificates in petroleum management to prepare for leadership assignments at Navy fuel depots. They sit alongside other KU students in the international area studies centers, preparing to serve as foreign area officers and military attachés in U.S. embassies. And they pursue doctorates in history, public administration, and political science to return to teach at our military academies.
Those Who Have Served
KU is one of the leading universities in the nation for providing student support for military-affiliated students. In early 2017, the University opened the Lt. Gen William K. Jones Military-Affiliated Student Center (MASC) in Summerfield Hall. The MASC is a centralized resource for the military-affiliated community, enabling KU students to achieve their academic, personal and professional goals as they move to, through and beyond the university. KU has achieved sustained national recognition as a best school for veterans since 2011, and the Military Times: Best for Vets Colleges 2020 survey ranked KU as the No. 9 public university (No. 11 overall).
Through generous gifts of supporters, KU also is a leading university for scholarship support to veterans and their family members. In 2013, KU established the Wounded Warrior Scholarship program, and to date has awarded 39 scholarships. More recently KU extended scholarship efforts through a student veteran scholarship and a military family scholarship. This year KU introduced the Military-Affiliated Student Leadership Fellowship.
KU's research endeavors also touch the lives of veterans. Earlier this year, researchers were awarded a $1.7 million grant to study eating disorders in both active-duty soldiers and veterans.  This award follows previous grants awarded to study traumatic brain injuries, post-traumatic stress disorder, and post-military transitions of veterans.
The KU Alumni Association also is a key contributor and partner to the veteran community. The KU Veteran's Alumni Network is composed of over 4,200 members worldwide who join together to celebrate their combined service and promote military, veteran and ROTC programming on campus. The network remembers and honors all KU veterans throughout history and those who made the ultimate sacrifice.
Those Who Will Serve
The U.S. Armed Forces obtains 30 percent of its newly commissioned officers through Reserve Officer Training Corps (ROTC) programs across the nation. KU is just one of 53 universities nationwide that have all three service ROTC programs on one campus.  From the inception of these programs at KU — Army ROTC in 1918, Naval ROTC in 1942, and Air Force ROTC in 1946 — nearly 3,000 midshipmen and cadets have thrived under the exceptional command leadership and have gone on to serve the nation.
The tradition of ROTC distinction continues today with numerous examples of outstanding service and achievement this year alone. This summer, Midshipman 1st Class Alyssa Sharp spent two weeks aboard the Japanese ship Shimakaze, as one of only 15 midshipmen in the U.S selected to take part in a Foreign Exchange Cruise with the Japanese Navy. In August, Midshipman Jake Murray finished third in the nation at the Conning Officer Virtual Environment Competition, which tests the ability to drive and handle ships under numerous simulator scenarios. Army ROTC Cadet Alden Vogel graduated at the top of his cycle and earned the distinguished RECONDO Badge awarded to less than 3 percent of trainees. Four KU cadets participated this year in the Cultural Understanding and Leadership Program and traveled to Peru, Rwanda, Nepal and Morocco. Air Force ROTC is currently enjoying the largest upper class student detachment in more than a decade and of the graduating senior cadets 72 percent have been classified into rated career fields.
Going Beyond Thanks
Nationally, less than two percent of the citizenry has worn the uniform. KU has over 280 faculty and staff, as well as numerous students, who have served in our Armed Forces. Many have heard Chancellor Girod speak proudly of his service as a surgeon in the Navy Reserves. But our veterans and future veterans are found throughout KU — from our faculty like Steve Egbert, Reggie Robinson, Rob Ward, Bernie Kish, and Don Haider-Markel; to our staff like Mattie Stevens, Jack Cline, Matt Battiston, Anna Paradis, and Mike Rounds; to student leaders such as Stacy Hague, Omar Williams, Scott Pao, and Mike Ellis. These Jayhawks have personal appreciation for the dual significance of this holiday — as a day to both reflect upon their service and a day to reemphasize our desire for peace.
It's fitting that each of us should feel gratitude to the past, present, and future servicewomen and men who defend the rights and freedoms we enjoy in America. Just as they dedicate their minds and bodies for America every day, KU will be there to help them achieve their full potential every day.
---
News and Notes
Thank you to all who took part in Visioning Day for KU's Strategic Planning 2020 endeavor on Nov. 8. If you haven't yet shared your thoughts and ideas that will help KU thrive and excel in the years ahead, you can still do so at the Strategic Planning 2020 website. Individuals who would like to assist on various advisory work groups should fill out this simple online form.
____
Trivia contests, a Settlers of Catan Tournament, penny wars, chili cook-offs and bake sales. Offices across campus are holding a variety of events and activities to build excitement around the annual United Way of Douglas County campaign. They all have a goal to encourage contributions from KU faculty and staff in support of area United Way agencies. Learn more about ways to be involved and how to make a direct or payroll deduction contribution at the new KU United Way website.
____
The search committee for the new Vice Provost for Graduate Studies is accepting applications from tenured KU faculty until Nov. 13. The position is a 50% appointment. Learn more about the position and the opportunity to lead KU's Office of Graduate Studies.
____
The Center for Undergraduate Research has a number of deadlines quickly approaching. Students who would like to present at the Fall Poster Session must register by Nov. 15.  Faculty and instructors can apply for a Research-Intensive Course Grant by Nov. 15. These grants offer support to incorporate a larger research or creative component into a class.
____
Distinguished Professor Michael Wehmeyer will deliver Inaugural Distinguished Professor Lecture "Strengths-Based Approaches to Educating All Learners With Disabilities: Beyond Special Education" at 5:30 p.m., Monday, Nov. 25, in Alderson Auditorium of the Kansas Union. All are welcome. A reception will follow.
____
Export controls can be complicated. The KU Office of Global Operations & Security helps guide faculty and staff and answers questions on U.S. regulatory requirements for proper exporting of physical and intellectual property. Understanding export controls benefits the individual, KU and national security, and can help prevent fines or sanctions. To learn more about export controls, read the November 2019 export and security message. To subscribe to future newsletters, send an email to gos@ku.edu.
____
The School of Business 2019 Sutton Lecture will focus on "The Hidden Costs of Organizational Dishonesty." Associate Professor of Marketing Jessica Li will present the lecture at 6:30 p.m. Wednesday, Nov. 13, in the Dicus Family Auditorium of Capitol Federal Hall.
____
Author Michael Bobelian will present "The Battle for the Marble Palace: The Forging of the Modern Supreme Court at 3 p.m., Tuesday, Nov. 19, at the Dole Institute of Politics. Bobelian will discuss the nomination of Abe Fortas to be chief justice of the U.S. Supreme Court and the launch of an all-out cultural war of political parties. Learn more about this and other Dole Institute of Politics events.
In lieu of a forum, Transportation Services this year will host a "drop in day" to receive public comment from anyone who wishes to speak directly with Transportation Services administrators. The event will be from 8 a.m. to 5 p.m., Thursday, Nov. 14, in the Transportation Services office, 3rd floor of the Allen Fieldhouse Garage. Comments may also be shared through an online survey, or sent directly to Parking Commission secretary Margretta de Vries.
____
KU is entering the Esports playing field with a varsity level team. To be considered for team tryouts on Nov. 17, interested students should fill out this online form as soon as possible. In January top students will compete in the League of Legends multiplayer online battle arena video game.
____
Nov 18-22 is International Education Week. Units across campus will host a variety of activities to highlight the benefits of international education and exchange around the world. Events include a cultural talent show, global trivia contest, lectures, panel discussions and more. Join the conversation with hashtags #IEW2019 and #GlobalJayhawks.
---
Carl
--
Carl Lejuez
Interim Provost and Executive Vice Chancellor
Follow me on Twitter at @KUProvostCarl and the Provost Office at @KUProvost. Join the office on Facebook at /KUprovostoffice/. Join the office on Instagram at /KUprovost/.