Building KU's Research Muscle
---
Estimated reading time: 3 minutes, 23 seconds
Students, staff, and faculty:
The University of Kansas has been flexing its research muscle of late. Over the past several months I've noticed heightened awareness about university wide research collaboration and our more strategic approach to research development.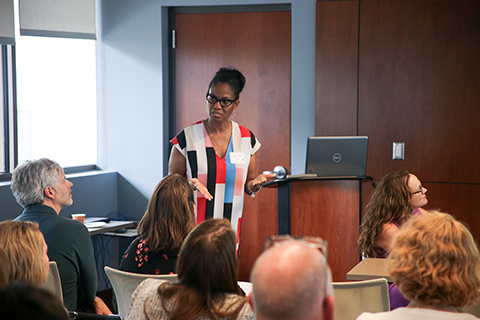 In the weeks ahead I want to focus the Provost's Message on some of the various programs and people who are doing fantastic work and enhancing our campuses. Because research excellence is a prominent aspect of KU's national reputation and of our status in the Association of American Universities, it's important to recognize and celebrate the hard work and good ideas that go into building and sustaining scholarly success.
Greater Than the Sum of Parts
Vice Chancellor for Research Simon Atkinson arrived on campus a little more than 100 days ago, and he brought with him an enthusiasm that is energizing scholars and scholarly activity across campus. He joined an Office of Research team that has, for a long time, worked hard and I am seeing a renewed enthusiasm spreading across campus. We are seizing opportunities to pool KU research strengths across disciplines that will address societal challenges now and in the future.
The recent Future of Work Listening Session in the Kansas Union brought together academia, industry, nonprofit organizations, and local and state government stakeholders to discuss research and collaboration opportunities associated with the human-technology frontier. It was encouraging to see the breadth of external partners who participated at this Midwest gathering. The listening session included a keynote presentation from Brian McClendon, research professor in Electrical Engineering & Computer Science, and a demonstration from Greg Thomas, professor of design and director of KU's Center for Design Research. Panel presentations included participation from industry, the national simulation center at Fort Leavenworth and KU researchers from Lawrence, the Edwards Campus, KU Medical Center and the KU Health System. I've heard that within a week of the Future of Work session, multi-disciplinary faculty teams have started forming around emerging themes.
Understanding the research expertise existing at KU and the initiatives being launched within our departments is crucial to discuss and develop cross disciplinary collaboration opportunities. The Office of Research is working closely with associate deans for research across campus to coordinate research development and support.
KU's research development and corporate engagement teams have been holding regular networking sessions with both the Eastern Kansas and the Kansas City Veterans Affairs Health Care systems. These events bring together KU researchers from Lawrence, the School of Medicine and the School of Nursing to discuss collaborative research opportunities with VA researchers and clinicians and industry partners such as Cerner Corporation. A worthy example of this type of synergy and how this approach can be so promising is a KU Life Span Institute project led by Associate Professor of Psychology Kelsie Forbush and Associate Professor of Women, Gender & Sexuality Studies Alesha Doan. They secured a $1.7 million Department of Defense grant to study eating disorders in the military and how adapting screening tools and understanding organizational challenges can be used in detecting and treating these disorders. This grant brings together professors Forbush and Doan, who are working in partnership with researchers from Eastern Kansas VA Health Care System while leveraging the vast data resource available through the VA network.
Plans for Future Successes
The Office of Research is currently searching for the right person to fill a new director level position with broad campus reach. This person will strive to envision and expand KU's research development efforts and is expected to:
Cultivate and harness sources of research funding from government agencies, foundations and industry partners
Spark development of multidisciplinary projects uniting KU's research strengths
Champion professional development, communication and mentoring that helps researchers be more successful in the effort to secure research funding.
Ultimately, this individual will be bringing KU's great people and great ideas together.
These are a few of the many ways I see the Office of Research is creating and supporting a culture of discovery and innovation that helps our scholars to flourish and achieve. You can learn of even more examples by subscribing to the office's new KU Discoveries newsletter.
---
News and Notes
Members of the KU community are invited to take part in the Strategic Planning 2020 Visioning Day led by Chancellor Douglas Girod. Join the chancellor in person at 3 p.m. Friday, Nov. 8, in the Kansas Union Ballroom. Please RSVP so planners can ensure adequate seating and refreshments. Individuals and groups can also follow the event online and provide their ideas and feedback.
____
Faculty and staff are encouraged to update personal information, including disclosures, in HR/Pay. As a state university and federal contractor, the university is required to annual report race, ethnicity, disability and veteran data of KU's workforce and employee searches.
____
October is National Disability Employment Awareness Month. KU's ADA Resource Center for Equity & Accessibility is working to raise awareness about and promote inclusion through an open and accessible working environment. The center also facilitates reasonable accommodations for employees with disabilities.
____
The KU Food Drive is being extended until Oct. 30. Members of the KU community who are able to can bring nonperishable food items to the collection barrels in buildings across campus. The donations benefit Just Food, which supplies the Campus Cupboard in the Kansas Union. Financial donations can be made by texting "PHOG" to 785-504-1717. Campus Cupboard is available for KU students, faculty, staff and affiliates.
____
KU Trunk or Treat will be 6 p.m. to 8 p.m., Wednesday, Oct. 30, at the Adams Alumni Center parking lot. This family friendly event, sponsored by the KU Student Involvement and Leadership Center, the Center for Community Outreach and the Student Alumni Network, is open to all.
____
The latest Bloom's Sixth blog entry from the Center for Teaching Excellence Associate Director Doug Ward focuses on enrollment trends in Kansas and the nation and what that could mean for higher education institutions. Learn more.
____
The Office of Multicultural Affairs is accepting applications for the Spring 2020 cohort of Social Justice Fellows. The program provides intensive direction for faculty and staff on issues of social justice, inclusion and systemic oppression. The program is structured like an academic course with scholarly readings and required attendance. Applications are due by Dec. 6.
____
The Alliance for the Arts in Research Universities (a2ru) National Conference will run from Nov. 7 through Nov. 9 on the Lawrence campus. The conference theme is Knowledges: Artistic Practice as Method. Paid registration is required. A free pre-conference colloquium, which also requires registration, will take place Nov. 5-Nov. 7. The keynote address, "Whiteness: What is to be Done?" presented by Nicholas Mirzoeff of New York University, will be at 10 a.m., November 7 in Woodruff Auditorium of the Kansas Union.
____
The next Red Hot Research puts the focus on "Loss, Adaptation, Climate." Presenters from English, Visual Art, Engineering, Ecology and Evolutionary Biology and History will share their ideas from 4 p.m. to 5:30 p.m., Friday, Nov. 15, in The Commons of Spooner Hall.
____
New Launch KU projects include efforts to Replant Mount Oread, support the visually impaired through Audio-Reader, build a solar-powered car, provide scholarships for students at the KU Leavenworth Campus and more.
____
Rodolfo Dirzo, the Bing professor in environmental science at Stanford University and Senior Fellow at the Woods Institute for the Environment, will present "Species Diversity in a Changing Climate" at 3:30 p.m., Monday, Oct. 28, in The Commons of Spooner Hall. Dirzo has written broadly about the decline of animal life and effects on ecosystem processes.
____
Finalists in KU's 3MT Three Minute Thesis competition will present their research ideas from 6 p.m. to 7 p.m., Tuesday Nov. 5, in the Kansas Room of the Kansas Union.  In this communication completion sponsored by the Office of Graduate Studies and Sigma XI, graduate students have three minutes and one visual slide to present their original research. All are welcome to attend.
Carl
--
Carl Lejuez
Interim Provost and Executive Vice Chancellor
Follow me on Twitter at @KUProvostCarl and the Provost Office at @KUProvost. Join the office on Facebook at /KUprovostoffice/. Join the office on Instagram at /KUprovost/.