The "Every Day" of Inclusion Work
---
Estimated reading time: 3 minutes, 43 seconds.
Dear students, staff, and faculty:
Monday is a special day for many at the University of Kansas and across the nation. More and more people and communities are using the second Monday of October to observe Indigenous Peoples' Day.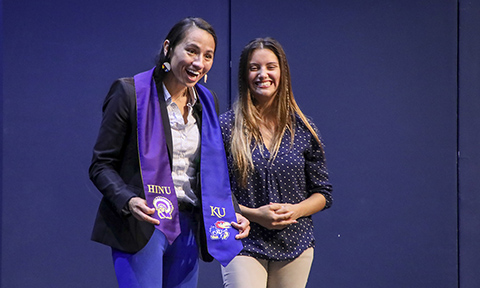 This week a number of KU offices and organizations collaborated to host several activities — including a visit from U.S. Rep. Sharice Davids — that sought to help all members of the KU community come together to learn, honor, and value the influence and impact of American Indians.
The University of Kansas resides on the ancestral territory of the Kaw, Osage, and Shawnee peoples. Specifically the university is located on land ceded in an 1825 treaty with the Kaw Nation and a later treaty with the Shawnee, enforced in 1854. This land acknowledgement recognizes that Native Americans are traditional guardians of the land and that there is an enduring relationship between Native peoples and these traditional territories. It recognizes, supports, and advocates for the sovereignty of the four federally recognized tribes of Kansas, the Prairie Band Potawatomie, the Kickapoo in Kansas, the Sac and Fox of Missouri in Kansas and Nebraska, and the Iowa Tribe of Kansas and Nebraska. To provide a fuller, better-informed account of our regional and national history, several KU offices, including the School of Social Welfare, already provide a land acknowledgement on their websites.
The land acknowledgement is one of many ways we, as a community, can do better and be better, not just on a single day of the year, but on every day of the year. Through the ongoing leadership and effort of groups like the Native Faculty and Staff Council and the First Nations Student Association we can comprehend how the campus community can be more inclusive and supportive. It's important that we recognize and value all people for who they are and appreciate the distinct insights and perspectives they each bring to our community and our collective quest for knowledge and creative expression. These ideals are at the root of our success.
A Year-round Effort
We can continue to take the work out into the public in the days and months that follow by helping elevate the profile of individuals from marginalized groups when we celebrate their work and achievements. For example, we might consider including a Native faculty or staff member's tribal affiliation in programs or publications. When done appropriately, that kind of visibility matters. It affirms people's identities. It also helps people expand their understanding and check their perceptions.
At the beginning of October, KU hosted the well-attended statewide Michael Tilford Conference for Diversity & Multiculturalism, which benefitted from the tireless work of our staff in the Office of Diversity & Equity, as well as partnership from the other Kansas Board of Regents institutions. My office also put out a call for nominations to serve on the search committee for the next permanent vice provost of Diversity & Equity. This month and next, the Office of Admissions and the Office of Multicultural Affairs are hosting prospective student Leadership Symposiums, including one for Native Americans. The Center for Sexuality and Gender Diversity is coordinating multiple events for "Outober," to observe Coming Out Month. Next week, the Department of Spanish and Portuguese is leading programming to celebrate 100 Years of Hispanism in Kansas and Beyond. KU Libraries is also celebrating this centennial with an exhibit in the Haricombe Gallery through January. And on Monday, Oct. 14, we have the opportunity to observe Indigenous Peoples' Day.
Clearly, we can't and we shouldn't contain our efforts to build a more inclusive KU to a single day. Diversity, equity, and inclusion efforts require our year-round attention and dedication. This week the Lied Center announced that through its collaboration with several campus partners it will receive a major grant from the Mellon Foundation to benefit all of campus. The three-year grant will help KU implement an original diversity and inclusion curriculum that incorporates performing arts and visiting artists to explore and communicate a variety of themes, including social justice, identity, and intersectionality. This long-term approach is a timely and welcome example of what is possible and necessary.
We can agree there are some basic truths that shape our community:
We will continue to grow and change as a university.
We will continue to expand our knowledge of ourselves and of others.
That knowledge requires us to constantly think about how we make people feel included and valued. We can never assume that we've done enough. We know we have more work to do.
Photo Credit: U.S. Rep. Sharice Davids talks with students at KU in advance of 2019 Indigenous Peoples' Day. Photo courtesy of the KU Center for Educational Opportunity Programs and Communications Coordinator Laura Kingston.
---
News and Notes
Nominations for the annual University Scholarly Achievement Awards are due Dec. 13. Up to four mid-career faculty members from any field of scholarship at KU are recognized each year. The $10,000 award recognizes a significant scholarly or research contribution, creative work, or a series of closely related contributions. Learn more about eligibility and nomination criteria.
____
Friday, Oct. 18, is Crimson & Blue Open House for any prospective student interested in attending KU and their guests. Thousands of visitors are expected to be on campus to learn about academic and support programs, and take tours of campus, housing and facilities. Be sure to make them feel welcome.
____
Watkins Health Services flu shot clinics continue throughout October. Staff will be at locations across campus to administer flu vaccines to students, faculty, and staff and spouses enrolled in the State Employee Health Plan. Please bring a KU ID and health insurance card to the clinic. Information about remaining dates and locations, potential cost and participation forms are available here.
____
The KU Food Drive is underway through Oct. 25. All donations benefit Just Food, which supplies KU's Campus Cupboard. Donation barrels are set up at locations across campus. Individuals can also text "phog" to 785-504-1717 to make a donation.  Campus Cupboard, located on the fourth floor of the Kansas Union, is open to all students, staff and faculty.
____
The Center for Sexuality and Gender Diversity is hosting a variety of events to observe Outober, Coming Out month. Activities include Queer Hallowzine Night, co-hosted by the Emily Taylor Center for Women and Gender Equity, from 6 p.m. to 9 p.m., Tuesday, Oct. 22, Kansas Union, Room 400.
____
Foundation Distinguished Professor Mark Shiflett in the Department of Chemical and Petroleum Engineering will present his inaugural distinguished professor lecture "The History of Refrigerants: What's Next?" at 5:30 p.m., Thursday, Oct. 17, at The Oread Hotel. All are welcome and a reception will follow.
____
Professor of Film and Media Studies Kevin Willmott will deliver the 2019 Bill Tuttle Distinguished Lecture in American Studies at 4 p.m. Thursday, Oct. 24, in Woodruff Auditorium of the Kansas Union. The Academy Award winning screenwriter will discuss "BlacKkKlansman and the Resurgence of Hate." A reception will follow.
____
Open Enrollment for the State Employee Health Plan is underway through October. Learn more about Open Enrollment. On Wednesday, Oct. 16, employees are invited to attend Open Enrollment presentations at 10 a.m. and 1 p.m. in Alderson Auditorium of the Kansas Union and a Benefits Fair from 11 a.m. to 1 p.m. on the 4th Floor of the Union.
____
The Hall Center for the Humanities, in conjunction with several campus and community partners, is hosting "Haunting Humanities: Disciplines in the Dark" from 5:30 p.m. to 9 p.m., Wednesday, Oct. 23, at Abe & Jake's Landing, 8 E. 6th Street. The free, all-ages event offers a haunting take on history and literature and a science fair for the Humanities.
____
The Spotlight on Care series continues to bring attention to care and well-being of individuals at KU with three more programs in October: Manifesting Healing on Oct. 16, Yoga for Wellness on Oct. 23, and Resilience is Relational on Oct. 30. All programs begin at noon in The Commons of Spooner Hall. The series is coordinated by the IPSR Center for Compassionate and Sustainable Communities, The Commons and other campus partners.
____
The Center for Undergraduate Research will hold one more research award proposal workshop before the proposal deadline.  Undergraduates interested in competing for a research award should bring a close-to-final version of their proposal to the workshop at 4 p.m., Monday, Oct. 28, in the Pine Room of the Kansas Union. The deadline to submit a proposal is Oct. 31.
Carl
--
Carl Lejuez
Interim Provost and Executive Vice Chancellor
Follow me on Twitter at @KUProvostCarl and the Provost Office at @KUProvost. Join the office on Facebook at /KUprovostoffice/. Join the office on Instagram at /KUprovost/.