KU Edwards Campus Builds Success in KC Metro
---
Estimated reading time: 3 minutes, 13 seconds
updated Tuesday, Oct. 1, to correct the name of the Annual Security Report.
Students, staff and faculty: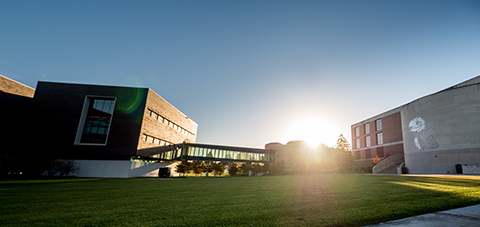 The traditional path to career success through higher education is becoming less traditional every day. While change in our disciplines is certain, what remains true is the knowledge that a degree or other learning credential endures as a doorway to personal and professional success. The University of Kansas is fortunate to have a distinctive avenue to address the needs of millions in this region.
KU Edwards Campus excels in developing and hosting new opportunities to help KU's academic offerings connect with people who have highly diverse aspirations and exceptionally diverse needs and pressures.
From its base in Overland Park, the KU Edwards Campus serves a widely varied student population in Kansas and Missouri. A significant portion of KUEC students are considered nontraditional students — often older individuals, maybe with families of their own; perhaps working professionals striving to advance in their careers or head in a brand-new direction. Sometimes the students are determined to complete a degree they put on hold years earlier. Three-quarters of KUEC students have jobs and almost 50 percent work full time; 80 percent are over the age of 25; 27 percent are parents of children under 18; and about 23 percent are first-generation college students.
Student success is a focus on all KU campuses, although the Edwards Campus may be even more attuned to providing the flexibility in both program options and course delivery that can sometimes be the difference students need. That flexibility and nimbleness characterize the Edwards Campus approach to its mission of serving Kansas City's unique, local workforce needs.
In a February 2019 opinion article for The Kansas City Star Chancellor Douglas A. Girod wrote, "During the next decade, half of all jobs in Kansas City will require an associate degree or more advanced degree, and 75 percent of top jobs will require a postsecondary credential. The combination of low unemployment and ever-changing workplaces increases the need for higher education to address workforce shortages." Today, KUEC offers more than 50 graduate, undergraduate and academic certificate programs in partnership with the professional schools and the College in Lawrence and the KU Medical Center in Kansas City, Kan. Clearly, our academic efforts through the Edwards Campus are resonating with both employers and students. The campus has experienced year-over-year increases in enrollment — up more than 15 percent in the last few years.
Educators and administrators at the Edwards Campus maintain close ties with local businesses and help ensure the campus meets the expectations of the public, policymakers, and area industry. KUEC's partnerships within Kansas City region initiatives such as KC Rising and the Johnson County Education Research Triangle (JCERT) keep KU involved and well-positioned to address educational needs that can bolster the regional economy as they fulfill career advancement goals of residents.
In addition to degree and certificate options, the Edwards Campus serves as the HQ for KU Professional & Continuing Education, which provides noncredit courses and internationally regarded professional development opportunities regionally and around the world. In line with the Edwards Campus' mission of serving the community's diverse, present and future workforce needs, KUPCE offers a suite of computing boot camps that provide training in coding, data analytics, and cybersecurity. Nearly 400 professionals have graduated from these boot camps over the past two years, and 150 students are currently enrolled.
KUEC Vice Chancellor David Cook and his team embrace the idea that today's students are going to be continually learning throughout their lives. "We'll be here when they want to finish a degree they started, need new job skills for their current job, or want to pursue something new," he said.
Having a campus in the heart of Overland Park allows KU to expand its reach and provide convenient, high-quality education to working professionals and others looking to start, change or advance their careers. The Edwards Campus cements KU as the leading higher education institution serving the needs of the greater Kansas City region.
---
News and Notes
On Tuesday, Oct. 1, multifactor authentication will be required when KU Lawrence and Edwards Campus faculty, staff and graduate assistants sign on to pass-word protected information systems.  Those who have not already set up an account through Duo should do so as soon as possible.
____
Nominations to serve on two vice provost search committees are due at the end of the workday on Tuesday, Oct. 1. Links to submit nominations for committee membership for the Vice Provost for Undergraduate Studies search or the Vice Provost for Graduate Studies search can be found on the Provost Office website. Self-nominations are welcome.
____
The Office of Diversity & Equity, in conjunction with Haskell Indian Nations University and several KU campus partners, have arranged a number of activities leading up to Indigenous Peoples' Day on Oct. 14. The campus community is invited to hear remarks from U.S. Congresswoman Sharice Davids, (D-Kan.) at 6 p.m., Tuesday, Oct. 8, in Woodruff Auditorium of the Kansas Union, and take part in many other events and exhibitions.
____
KU's annual security report for 2018 activity is now available. Members of the public can review the Lawrence campus report, as well as the Edwards Campus report.
____
The KU Office for Research is calling for nominations for the 2020 achievement awards. Nominations for the Postdoctoral Achievement Award and the Staff Achievement Award to recognize research contributions of postdoctoral researchers and unclassified professional staff are due Wednesday, Oct. 23. Nominations for the Steven F. Warren Research Achievement Award, which recognizes the efforts of an unclassified research staff member in an academic department or research center on the Lawrence campus, is also due on Wednesday, Oct. 23.   
____
Staff Senate will host an Unpacking Whiteness – Packed Lunch from noon to 1 p.m., Thursday, Oct. 10, in Forum B of the Burge Union. All are welcome to bring their lunch and join in small group discussions related to learning around issues of diversity, equity and inclusion.
____
The Hall Center Humanities Lecture Series will feature Professor of Public Affairs and Administration Sarah Deer who will present "Sovereignty of the Soul: Centering the Voices of Native Women", 7:30 p.m., Tuesday, Oct. 1, at The Commons.  Professor Deer holds a joint appointment with the Department of Women, Gender and Sexuality Studies and is the co-author of four textbooks on tribal law, and the author of "The Beginning and End of Rape: Confronting Sexual Violence in Native America."
____
Between now and the end of October, Watkins Health Services will coordinate the 2019 Flu Vaccine Clinics. Staff will be at locations across campus to administer flu vaccines to students, faculty, and staff and spouses enrolled in the State Employee Health Plan. Please bring your KU ID and health insurance card with you to the clinic. Information about locations, potential cost and participation forms are available here.
____
KU alumna and author Dr. Rosemarie Truglio of the Sesame Workshop will present "Ready for School!" and talk about the research that informs it at the Lawrence Public Library at 4 p.m., Friday, Oct. 4. The event is sponsored by the Life Span Institute, the College of Liberal Arts and Sciences and Lawrence Public Library.
____
The Office of Global Operations and Security had a very successful introductory year, and the staff look forward to continue that growth with the new fall semester. GOS will continue to circulate a monthly distribution letter to provide faculty and staff with educational materials on KU's high-risk international activities. The intent is to assist faculty and staff in identifying high-risk activities and provide measures to reduce overall risk. To subscribe, send an email to gos@ku.edu.
____
Applications to join the KU chapter of Phi Beta Delta will be accepted until Tuesday, Oct. 1. Phi Beta Delta is a national honor society and campus organization that recognizes those who have contributed to international education. It is open to faculty, staff and students who have experience with studying, researching or teaching abroad. Membership benefits include a network of people with a shared interest in international education, as well as opportunities to present research or international experiences at member events. 
____
Fall Break begins Saturday, Oct. 12, and runs through Tuesday, Oct. 15. During break there are no classes, although offices will be open Oct. 14-15. Classes will resume Wednesday, Oct. 16. Travel safely.
Carl
--
Carl Lejuez
Interim Provost and Executive Vice Chancellor
Follow me on Twitter at @KUProvostCarl and the Provost Office at @KUProvost. Join the office on Facebook at /KUprovostoffice/. Join the office on Instagram at /KUprovost/.