Students, This is for You
---
Estimated reading time: 2 minutes, 54 seconds
Students, staff and faculty: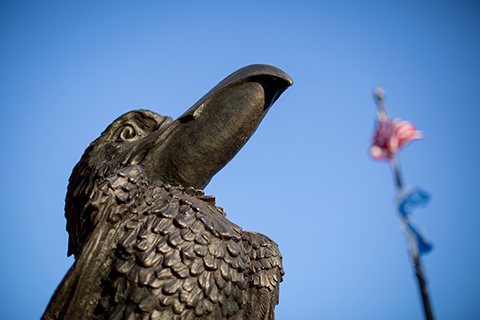 A high-quality education has several elements — things like great instruction, experiential learning, original research and scholarship, extracurricular activities, supplemental instruction, leadership opportunities, support services and more. The University of Kansas has a stellar network that empowers students to achieve. One element that is sometimes overshadowed at KU is how we harness the collective knowledge and care of our alumni as part of the student experience. Faculty and staff, who are front and center, are driven to ensure that undergraduate and graduate students have access to programs and are supported at KU. Although less visible, alumni are eager to do their part, too.
As Chancellor Girod has visited with groups across campus, he's shared a message of strengthening KU to develop students of the future — individuals who are not simply smart and capable, but who are also adaptable life-long learners, able to find fresh opportunities in a rapidly changing world. The Chancellor likes to share the forecast that new graduates will change careers — not jobs — seven times before they retire. As we enter into strategic planning this year, we will all have a chance to focus on KU's efforts that improve student success and, just as important, improve their success post-graduation. Making the most of our alumni connections is one area of impact that can and is affecting those outcomes right now.
It's exciting to see the opportunities available to students through the KU Alumni Association's KU Mentoring program. More than 4,000 alumni currently participate, and they are ready and willing to connect with students to share their career or college advice and experiences. Students can reach out to Jayhawks from all academic backgrounds in a wide range of industries and professions. KU Mentoring is the key benefit of activating a free Student Alumni Network membership.
Students can use KU Mentoring to:
Ask for resume help
Find interview tips
Get advice on classes related to your career goals
Talk about career advice or get a "day-in-the-life" experience.
Yet another program with alumni connections is also helping students prepare for the future. KU alumnus Adam Wray, founder and CEO of AstrumU, is working to help KU students enrich their academic journeys and connect with employers. This fall KU launches AstrumU's Career Pathways app. It is designed to let students track their skill-building through curricular and co-curricular pursuits — these are the marketable skills prized by employers. Students can learn which skills are most valued by industries and employers, identify gaps in those skills and receive personalized recommendations for skills to develop and experiences to pursue. The app also helps students identify and complete career-preparation activities sought by employers interested in hiring candidates with those skills. University Career Center coaches are ready to help students identify and secure those skill-building opportunities. And employers aligned with AstrumU will be able to coordinate their opportunities and job openings with the Career Center.
All across campus we have talented teams — whether in the professional schools and the College, or in our dedicated academic support units — working to connect students with the many resources that enrich their experience and support their lives. I can't stress strongly enough how important these efforts are. Now we have additional opportunities to help students connect with and learn from an even broader community of Jayhawks and employers of Jayhawks. Career readiness and agility are some of the important elements that characterize the high-quality education we offer at KU. It's my hope that every student takes full advantage of all that KU and the Jayhawk nation have to offer.
---
News and Notes
Join Interim Provost and Executive Vice Chancellor Carl Lejuez for the first Community Forum of the academic year this afternoon. The event begins at 4 p.m. in the Beren Petroleum Conference Center of Slawson Hall. The forum will be livestreamed and recorded for those who can't attend.
The KU Alumni Association has announced its schedule for Thank Goodness It's Thursday (TGIT) events for faculty and staff. KUAA invites KU colleagues to enjoy light snacks, drink specials giveaways and networking. The first TGIT is 4 p.m. to 6 p.m., Sept. 19 at the Adams Alumni Center. 
The Center for Teaching Excellence has a number of lunchtime workshops scheduled for faculty and instructional staff.  A couple upcoming topics include "Teaching Foundations Power Workshop: Engaging & Motivating Students," on Sept. 20, and "Using 'Productive Failure' to Foster Meaningful Learning" on Oct. 18. See the complete schedule and register here.
All KU Lawrence and Edward Campus faculty, staff and graduate assistants will need to enroll in multifactor authentication by Oct. 1 to maintain access to KU's password-protected information systems. Those who have not already set up an account through Duo should do so as soon as possible.
The KU Natural History Museum is again hosting its series of Collections Up Close — opportunities for the KU community to see different specimens from the museum's vast collections. From 11:30 a.m. to 1 p.m., Tuesday, Sept. 17, at the Union, the public is invited to learn more about parasites of sharks and rays.
Kiese Laymon, author and contributor to the 2019-2020 KU Common Book "Tales of Two Americas: Stories of Inequality in a Divided Nation" will deliver the KU Common Book Keynote Lecture at 7 p.m., Thursday, Oct. 3, at the Lied Center. Laymon also will participate in a moderated Q&A session at 10 a.m., Friday, Oct. 4, in Woodruff Auditorium of the Kansas Union.
The Staff Senate Diversity & Inclusion Committee is hosting a number of opportunities this fall for the campus community to engage in conversation and action around issues of diversity, equity and inclusion. Among them is a three-part Friday afternoon workshop series "Unpacking Whiteness in the Workplace" on Sept. 20, Oct. 25 and Nov. 22.  Visit mytalent.ku.edu to register for each session.
The Office of Undergraduate Studies and Financial Aid and Scholarships have joined together to create a new site to assist members of the KU community. Help.ku.edu primarily serves students with a variety of resources that can help them navigate challenging situations such as hunger, counseling needs, transportation, financial insecurity and more.
Congratulations to Professor Sarah Deer, who was inducted into the National Women's Hall of Fame on Sept. 14, for her work on feminist and Native American issues. Deer (Muscogee [Creek] Nation) is a 2014 MacArthur Fellow, and was selected for the hall based on her work on the Violence Against Women Act and the Tribal Law and Order Act.
The Mentoring Circles for Disability Inclusion Program is accepting applications for the 2019-2020 cohort until Oct. 4. Up to 24 faculty and staff will be accepted into the program, which helps expand knowledge and perspectives on disability inclusion. The group meets weekly for seven weeks beginning in January and participants earn certification as an Ambassador for Proactive Disability Inclusion.
Carl
--
Carl Lejuez
Interim Provost and Executive Vice Chancellor
Follow me on Twitter at @KUProvostCarl and the Provost Office at @KUProvost. Join the office on Facebook at /KUprovostoffice/. Join the office on Instagram at /KUprovost/.