Graduate Education - Building on Strengths and Supporting Our Students
---
Estimated reading time: 5 minutes, 11 seconds
Students, staff, and faculty:
This past spring I asked several members of the University of Kansas community to help identify opportunities for progress and innovation within our Office of Graduate Studies.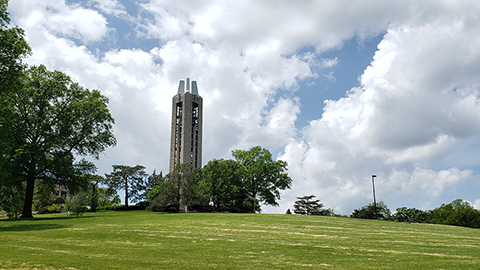 A large and highly inclusive Graduate Studies Advisory Committee comprising stakeholders in graduate education from across the university was tasked with looking at how we refresh our approach to graduate education and look at how we re-imagine it for success in a rapidly changing higher education environment.
I sincerely appreciate their dedication to their charge and the effort and thoroughness with which they completed their goals. The report the committee generated gave Chancellor Girod and me great content and context as we considered our next steps.
Through the process of inspection and review of this report, we have identified areas of strength to preserve as well as changes that I believe will strengthen our support for graduate education and provide more direct resources to students. With this report as a resource, the Chancellor and I created an initial draft plan. Over the past month, I have shared this draft with our deans and senior leadership team in the Provost Office as well as staff in the Office of Graduate Studies, Governance leadership, and most recently with the Graduate Studies Advisory Committee and our recently formed Graduate Student Advisory Board. The feedback was very useful and led to several valuable modifications. No final plan can be 100 percent agreeable to all constituencies, but I do believe the final plan I have developed with Chancellor Girod is stronger because of the extensive feedback we received. At this time, I want to share the major aspects of this plan with our campus.
The academic affairs responsibilities of Graduate Studies will move more directly under the Provost Office umbrella. This elevates the role of graduate studies through embedding it into larger support networks within the Provost Office. The position of dean will become a vice provost position for a tenured faculty member. This vice provost will have a seat in the new Academic Affairs Team we are creating that will include leaders from Undergraduate Studies and International Affairs and other units central to our academic mission. Moreover, as part of the Provost Office, centralized efforts to support graduate studies will benefit from greater access to data and metrics and communications support that will greatly enhance strategic efforts and collaboration to support graduate students at KU.
The Vice Provost for Graduate Studies will focus on strengthening our centralized vision, oversight, and services as well as collaboration with localized graduate training efforts across the Schools and the College. Staffing within the unit will take a key role in strengthening centralized policy and procedures but will do so with an eye toward supporting the unique needs for graduate training across campus. Toward this end, the office will include a full-time staff member, who will serve as a liaison, advocate, and point of contact for the professional schools. A liaison for the College will be filled by the director of the College Office of Graduate Affairs, who will provide a percentage of work efforts embedded in the office.
Graduate Studies staff who focus on recruitment and admissions activities will remain as a cohesive team with a singular focus on graduate students, and will continue to provide the same level of flexible and individualized support to the localized efforts underway in the Schools/College. Although they will stay located with other centralized graduate services, we see great opportunity in expanding the scope of graduate admissions and recruitment by having these staff report directly to Enrollment Management. There is no question that bringing graduate student recruitment into EM will strengthen support for admissions and recruitment. Moreover, Vice Provost for Enrollment Management Matt Melvin sees benefits for graduate students directly through greater partnership with KU Financial Aid and Scholarships. Vice Provost Melvin will work closely with the Vice Provost for Graduate Studies to ensure strong collaboration across the admissions and recruitment functions with the many other crucial aspects of graduate education overseen by the new vice provost.
With a more focused portfolio and with the importance of a Vice Provost for Graduate Studies continuing to be highly involved in graduate education as a scholar and mentor, this new vice provost role will be set at 50 percent administration and the remaining 50 percent of their appointment set as a faculty member within their academic program. There is great philosophical importance for graduate education in our leader remaining involved in their own work as a faculty member. Moreover, this appointment level, combined with other strategic alignment of positions will support our ability to reallocate funds directly back to graduate students in various forms, such as increased funding available for research and travel, as well as support back to the Schools/College to support targeted recruitment and programming efforts. I will share more details about the specific use of these funds in the coming months.
Graduate education is rarely a one-size-fits-all experience. Its strength, especially at an AAU research institution, is the highly individualized course that each student can choose to pursue. What I like about this reorganization plan is that it recognizes the different styles and paths of graduate education across KU and it respects and enhances the highly decentralized approach KU has toward graduate program administration. Notably, these changes will not impact the Self Graduate Fellowship or Graduate Military Programs, and we will continue to benefit from the contributions of the Executive Council of Graduate Faculty and our recently created Graduate Student Advisory Board.
The Chancellor and I are optimistic about the plan and we welcome your thoughts and feedback. You can send an email to provost@ku.edu or submit your thoughts anonymously online. My goal is to have seamless transition in place by January. We'll begin a search for a permanent vice provost in the coming weeks. I believe we have significant talent in graduate education at KU, and I am planning to tap this talent through an internal search.
Interim Dean of Graduate Studies and Professor of Molecular Biosciences Audrey Lamb will continue in the role as interim vice provost until the completion of an internal search. She has been a tremendous advocate for graduate education in this role and will be vital in ensuring a smooth transition this winter.
---
News and Notes
All students, staff and faculty are invited to attend the first Community Forum of the academic year at 4 p.m., Monday, Sept. 16, in the Beren Petroleum Center of Slawson Hall. The forum will also be livestreamed at https://provost.ku.edu/community-forums. Interim Provost Carl Lejuez will review the new budget allocation model for the Lawrence campus and will share a preview of the upcoming strategic planning process and provide other campus updates.
____
Faculty can sign up to be in a Peer Mentor Group, organized by the Center for Faculty Development & Mentoring. Each small group is matched with a KU faculty facilitator whose role is to convene their group every monthly and provide additional support outside of one's home department.
____
KU's ADA Resource Center for Equity & Accessibility has a new staff position to support employees who need a workplace accommodation. As the center's first accommodation specialist, Abby King helps KU employees by providing information, guidance, consultation and technical assistance regarding university, state, and federal requirements and procedures. The ADA Resource Center also has relocated to 117 Carruth-O'Leary Hall. The center is in the process of remodeling the space for accessibility and will host an open house in early fall.
____
The Spencer Museum of Art will host Backyard Bash from 1 p.m. to 4 p.m., Sunday Sept. 22, in Marvin Grove, behind the museum. Participants at the free event can enjoy games and performances that explore nature, culture, and the character of KU and Lawrence. 
____
The Center for Teaching Excellence is accepting RFPs until Monday, Sept. 9 for three of its Fall 2019 funding programs — the Inclusive Teaching Faculty Seminar, Course Transformation Grants, and the new Ideas-to-Action Program. The latter is a semester-long program that leads to actionable plans for innovating teaching and learning in a department.
____
The KU School of Music will hold its 20th annual Collage Concert at 7:30 p.m., Friday, Sept. 13, at the Lied Center of Kansas. The free event features several of the musical talents at KU.
____
New KU faculty are invited to take part in the yearlong New Faculty Foundations Series, coordinated by the Center for Faculty Development & Mentoring.  The series of short meetings cover a variety of topics that can help newer faculty navigate their roles and expectation and better understand KU culture and procedures.
____
KU will host the Alliance for the Arts in Research Universities (A2RU) National Conference in early November. Seventeen KU researchers will be among the presenters and anyone from the campus community can register to attend. Events will take place at the Spencer Museum of Art, Kansas Memorial Union, The Commons and the Natural History Museum.
____
The Dole Institute of Politics will host "In Conversation with Kevin Willmott" at 7 p.m., Wednesday, Sept. 11 at the Dole Institute. Professor of Film and Media Studies Kevin Willmott will discuss his diverse career as a director, screenwriter, producer, civil rights activist and professor. Willmott shared the 2019 Academy Award for Best Adapted Screenplay for his work on "BlacKkKlansman."
____
The Center for Faculty Development & Mentoring will host a series of development opportunities this academic year for department chairs and directors. The first gathering, from 9 a.m. to 1 p.m., Friday, Sept. 13, will address communicating for inclusion and compassion communication that contributes to an effective work environment. RSVP here.
____
On Sept. 12, KU Libraries will celebrate 100 years of the Department of Spanish & Portuguese at KU with the exhibition opening of "Strong Foundations: 100 Years of Hispanism at the University of Kansas." Learn more about the free exhibit and RSVP by Sept. 5 to attend the opening reception.
____
Creative scholar and best-selling author Jonny Sun will deliver The Commons' Kenneth A. Spencer Lecture at 7 p.m., Wednesday, Sept. 25, at Liberty Hall, 644 Massachusetts St. Tickets are free and are available online. Sun's presentation will feature a talk and interview with Associate Professor of Journalism Yvonnes Chen, followed by a book signing.
____
KU Natural History Museum's next Science on Tap will feature Kansas Riverkeeper Dawn Buehler and focus on the Kansas Watershed: Flow, Flooding & Management, 7:30 p.m., Wednesday, Sept. 18, at the Free State Brewing Co., 636 Massachusetts St.  
Carl
--
Carl Lejuez
Interim Provost and Executive Vice Chancellor
Follow me on Twitter at @KUProvostCarl and the Provost Office at @KUProvost. Join the office on Facebook at /KUprovostoffice/. Join the office on Instagram at /KUprovost/.