Estimated reading time: 6 minutes, 24 seconds
Faculty and staff: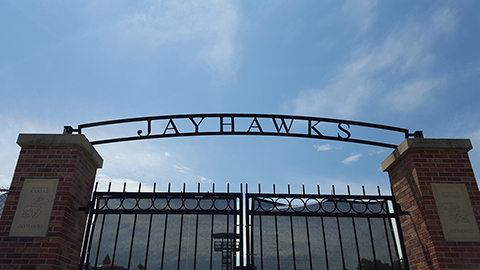 In the run up to the start of the fall semester, members of the university community are working with a new focus and energy, but truth be told, faculty, staff, and students have been working hard all summer long.
Our campuses had a very busy summer and end of the spring semester. Throughout the coming year, this column will share some of the good news about exciting developments and initiatives in the College of Liberal Arts & Sciences and the professional schools as well as in our academic service units. Further, Chancellor Girod's first message of the year to the university community will provide an update on the FY20 budget and a glimpse of our strategic path forward. Until then, I want to update you and all our colleagues on some noteworthy changes and achievements from the past few months.
New Faces and Progress Toward Stability
In the spring we completed several searches for key leadership roles and those individuals, including some familiar faces and names, have since moved into those positions.
Simon Atkinson is our new vice chancellor for research, coming to the University of Kansas from Indiana University - Purdue University Indianapolis.
Ron Ragan returns to the School of Pharmacy as its new dean, after serving as the founding dean of pharmacy at High Point University.
Sarah Crawford-Parker, who has led our Office of First-Year Experience, is now directing the University Honors Program.
Librarian Ada Emmett, director of the Shulenburger Office of Scholarly Communication and Copyright, will join D. A. Graham in the Ombuds Office as the new faculty ombuds.
Some of you with long institutional knowledge may remember Jean Redeker, who recently returned to KU after working at the Kansas Board of Regents. She originally joined our office this summer as a special assistant for academic affairs, but given her expertise, we have reclassified the position as assistant vice provost for academic affairs.
Transitional Leadership
As happens at every institution, we have had some folks leave for opportunities that better fit their situation and aspirations. As a result we've been able to elevate some of our best talent into interim roles.
Professor of Educational Leadership and Policy Studies Jennifer Ng is serving as interim vice provost for diversity and equity.
Susan Klusmeier, who has a distinguished history with Undergraduate Studies as director of strategic initiatives, is leading activities as the office's interim vice provost.
The School of Architecture and Design will see Mahbub Rashid occupying the dean's office as its interim dean. Rashid has most recently served the school as associate dean for research and graduate studies.
And, if you'll forgive the comparison, Life Span Institute Director and Professor of Psychology John Colombo is becoming the new Del Shankel of KU, applying his broad set of skills and experience in positions across campus. This time he is filling in as the interim dean of the College of Liberal Arts & Sciences.
We will begin several searches this fall and in all cases will move forward as quickly as appropriate to fill those openings. At the conclusion of the provost search, currently underway, appropriate steps will be taken to address permanent leadership for the College.
Graduate Studies Update
We have made great progress in our consideration of the best approach forward for the Office of Graduate Studies. I have been meeting with the leadership of the office, the chairs of the Graduate Studies Advisory Committee that met throughout the spring and provided recommendations in May, and graduate leadership in Student Senate. I have discussed these recommendations with the Chancellor and I believe a strong path forward is emerging. I plan to meet with the full membership of the advisory committee and the Graduate Student Advisory Board in the coming weeks and I look forward to making a formal announcement in my first Provost's Message of the academic year in early September.
Family Friendly Efforts
In June we shared the wonderful news of the recently implemented Parental Leave Policy. This new policy, which gives qualifying employees up to six weeks of paid leave upon the birth or adoption of a child, is welcome relief for families and will help KU recruit and retain great employees.
The Family Friendly work group I brought together in the spring semester shared its report with me in early June. The members found that KU already has a lot in place to support the intersection of life events with work expectations, but that we presume our employees will find the resources on their own. Human Resource Management and my office are developing a new Work + Life website to help faculty, staff, and graduate students find resources and policies that can provide relief and clarify options. I'll be sure to let you know when the site goes live.
Changes Coming Our Way
By October 1 all KU faculty, staff and GTAs, GRAs, and GAs will need to be enrolled for Multi-Factor Authentication with our security partner Duo. Already, KU IT Security Office has been able to prevent successful phishing attempts targeting our secured data and information. If you haven't signed up yet, please do so now to avoid the last-minute crunch.
KU's alcohol policy was updated this summer to allow the concessionaire Centerplate to sell beer at football games. The university has long allowed alcoholic beverages to be served at certain special events so this change is among the next logical steps.
This summer Chick-fil-A moved from the Underground to the Kansas Union. Now five years into a 10-year contract, KU was contractually required to provide updates this summer that would have cost more than $3 million to implement in the Underground, but instead could be achieved for less than $500,000 with the move to the Kansas Union. This relocation does not represent a new contract. Rather, KU is following through on its contractual obligations while being mindful of current fiscal realities. Groups of KU students, faculty, and staff have voiced their opposition to having Chick-fil-A on campus because of donations from the chain's foundation to organizations with anti-LGBTQ platforms. Moving forward, I believe it is important to have thoughtful discussion and deliberation when we enter into contracts. In the future, we will do so in a manner that is transparent and informed by our commitment to affirm diversity and to be a welcoming and inclusive campus.
And because we do want to be a welcoming environment, we are changing how we open semester activities with our newest students. Convocation is becoming University Welcome and will take place Friday morning, Aug. 23, in Allen Fieldhouse. At its conclusion, our incoming first-year students will meet classmates in their academic programs.
And faculty, you're always welcome at the annual KU Teaching Summit, from 8:30 p.m. to 1 p.m., Thursday, Aug. 22, in 130 Budig Hall. This year, Michigan State University Professor Ann E. Austin will deliver a keynote address focused on ways faculty members can broaden their views of how and why they educate students.
Forums Ahead
Over the summer, our work group developing a new budget allocation model has been meeting regularly, and I've been seeking feedback from select groups and offices. We are nearing a point where it's ready to share with the larger KU community. This model is closely tied to the health and success of KU and requires each of us to understand how our activities play a part in a unit's funding as well as in the university's success. Through a series of upcoming Community Forums in the coming year, I hope to provide deeper knowledge across the KU community, encourage your questions, and further strengthen collaborative partnerships. If there is a topic you'd like to make sure I address, please send suggestions by email to provost@ku.edu or visit the anonymous online feedback form.
Carl
--
Carl Lejuez
Interim Provost and Executive Vice Chancellor
Follow me on Twitter at @KUProvostCarl and the Provost Office at @KUProvost. Join the office on Facebook at /KUprovostoffice/. Join the office on Instagram at /KUprovost/.