Planning for What We Want
---
Estimated reading time: 1 minute, 45 seconds
Students, staff, and faculty: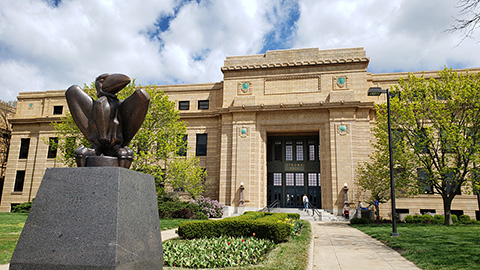 This has been a year characterized by budgetary challenges, but the willingness of our campus to face these challenges head-on leaves us in a position of greater stability and renewed strength. The final stages of our new campus budget model is one clear example.
Through the course of the academic year, I've shared components of our new budget model and sought your feedback through several presentations, numerous meetings across campus, and my office hours sessions. On Wednesday, May 1, I will introduce a more complete picture of our proposed budget model for the Lawrence campus. I hope you will attend, either in person or online.
Our new model intentionally and explicitly aligns our budget with our priorities including research and undergraduate and graduate student success, as well as the career development of our people, outreach across our state and beyond, and diversity, equity, and inclusion.
Perhaps most important, the model will protect and provide funding for our institution-wide foundational priorities — such as merit raises, deferred maintenance and savings for unpredictable situations — and encourage unit-based efforts that advance our strategic priorities.
Our foundational priorities came from you. Time and again, the chancellor and I have heard about the need for merit raises. We've also heard the need to better address upgrades and repairs in our aging facilities. To fulfill these goals we must move them to the front of the line for revenue allocation.
While we are confident that the priorities at the heart of our new budget model fit KU at this point in time, we also remain vigilant in the importance of community involvement in how these priorities can and should evolve. For this reason, we will use the coming academic year to begin a shared strategic planning process to support the chancellor's vision for the future of the university. The summer months will be a time for each of us to observe, discover, and think creatively about the future of KU and how our priorities can evolve to support that future. Until then, I invite you to my presentation offering a more complete overview of our new budget model this Wednesday.
---
News & Notes
The Department of Religious Studies has invited Jay Michaelson, affiliated assistant professor at Chicago Theological Seminary and legal affairs columnist for the Daily Beast, who will present "Religious Liberty and/or Civil Rights" at 7 p.m., Monday, May 6, in the Jayhawk Room of Kansas Memorial Union. Seating is limited; please RSVP to rstudies@ku.edu.
____
The Center for Teaching Excellence's annual poster session and reception will be from 3 p.m. to 5 p.m., Friday, May 10, in the Beren Auditorium of Slawson Hall. The event will feature 55 posters illustrating course and curriculum transformation strategies from the Best Practices Institute, C21 and TRESTLE mini-grants, Curriculum Innovation Program, Diversity Scholars, and STEM Analytics project. No RSVPs are necessary; just stop by.
____
Nominations for the annual Chancellor's Distinguished Teaching Awards are due by Friday, May 10. The awards include the Chancellors Club Career Teaching Award for longstanding faculty, the Ned Fleming Trust Award for distinguished teaching by a tenured or tenure-track faculty member, the Byron T. Shutz Award for a tenured faculty member, and the Bob & Kathie Taylor Excellence in Teaching award for a KU lecturer, nontenure track faculty member or academic staff member. Learn more about eligibility and the nomination process.
____
The annual Monarch Watch Open House, will be from 8 a.m. to 2 p.m., Saturday, May 11, Foley Hall, 2021 Constant Ave., on KU's West District. The all-ages event includes garden tours, kids activities, insects and live demonstrations. 
____
The Self Graduate Fellowship program announced the new class of Self Graduate Fellows. Thirteen students, including several current KU students, were selected for the prestigious leadership development fellowship, now in its 30th year. The fellows will study and conduct research in a variety of fields including ecology & evolutionary biology, bioengineering, economics, biomedical sciences, mechanical engineering, electrical engineering & computer science, medicinal chemistry, chemistry, physics & astronomy, and civil, environmental & architectural engineering.
____
The KU Biodiversity Institute and Natural History Museum will lead the 2019 KU Campus BioBlitz from 7 a.m. to 2 p.m. Saturday, May 4, on the Lawrence campus. Through taxon-focused walks leaving from the Natural History Museum, the goal is to document as much biodiversity on campus as possible.
____
The Department of Visual Art will host the Senior Show 2019 from May 5 to 19, in the Art and Design Gallery on the 3rd floor of Chalmers Hall. Hours are 9 a.m. to 4 p.m. A reception will take place from 7:30 to 9:30 p.m. on May 17. All are welcome.
____
Watkins Health Services will hold several Stress Busting Study Breaks in Watson and Anschutz Libraries on May 6, 8, 13 and 14. The student-centered events feature therapy dogs, snacks and free massages. The event will go on the road to the School of Engineering on May 7,
____
The School of Pharmacy dean search continues this week, with the second candidate presenting at 8:30 a.m., Tuesday, April. 30, in 1020 Pharmacy Building. Videos of the candidate presentations will be available after the final candidate presents, For greatest consideration, feedback on the candidates should be submitted by May 9, but will continue to be accepted until May 20.
 
Carl
--
Carl Lejuez
Interim Provost and Executive Vice Chancellor
Follow me on Twitter at @KUProvostCarl and the Provost Office at @KUProvost. Join the office on Facebook at /KUprovostoffice/. Join the office on Instagram at /KUprovost/.