Estimated reading time: 4 minutes, 8 second
Students, staff and faculty: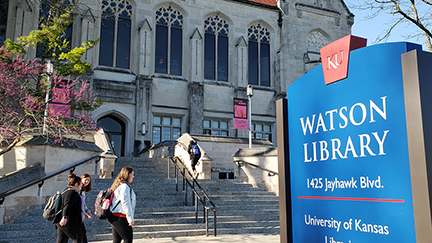 An indispensable division of the University of Kansas is responsible for saving students thousands of dollars, perhaps millions.
Through the efforts of KU Libraries, an international leader in open access and the promotion of Open Educational Resources (OER), faculty and academic staff have been encouraged to adopt, adapt or create openly available course materials.
A couple weeks ago I had the pleasure of assisting Student Senate in honoring Ingrid Peterson, director of the Kansas Algebra Program. Through her embrace of OER, KU students have saved an estimated $270,000 in textbook and course materials costs. KU Libraries professionals have been actively helping other faculty — like the recently announced Textbook Heroes — find, launch, or adapt open scholarly materials that further student learning and at the same time ease students' financial burden. Open Access is an endeavor that has garnered the interest of the Kansas Board of Regents, which is working with representatives from KU Student Senate and the senates at other Regents institutions to expand OER use.
As much as KU Libraries strives to benefit and advance students, faculty, and staff, it's important that we reciprocate and invest in KU Libraries.
So Much More
Whether Jayhawks frequent the brick-and-mortar structures, access information through a database, read The Chronicle of Higher Education online, or consult with libraries faculty or staff, every student, faculty, and staff member has a fundamental relationship with KU Libraries.  Libraries are the infrastructure that makes our learning, instructional, and research activities possible.
For many people on campus, the libraries are their scholarly laboratory, the physical or virtual place where discovery, innovation, and breakthroughs happen. KU Libraries work hard to provide the space, conditions, and resources to be the ideal lab. Here is a sample of their endeavors:
Research Sprints, pioneered at KU, are an innovative program that allows faculty to assemble a team of experts and spend an uninterrupted week moving a specific research project forward. This program has been adopted by a number of our peers.
KU Libraries have been training librarians in systematic review, and those librarians are increasingly called on to be part of research teams and included in grant proposals on the basis of this proficiency. KU Libraries also provide Software Carpentry training, teaching basic computing skills to researchers, including undergraduate and graduate students.
Libraries faculty and staff provide information literacy instruction, a key element of student retention and success, which is crucial for scholarly endeavors as well as vital for an informed citizenry. In 2017, KU Libraries offered over 660 information literacy sessions and reached almost 10,000 students. Library faculty and staff also provided over 4,000 research consultations with students and faculty.
Connecting, Enhancing
The libraries are also a vital link with the region. KU's broad and distinctive collections are especially powerful in drawing the community to campus and into the libraries. Special exhibits and faculty and guest lectures also help individuals throughout the region see KU as a place where all can continue to learn. The Social Justice Resources guide offers information and resources for anyone interested in learning more about social justice and issues in play. The libraries' partnership initiatives, such as Read Across Lawrence with Lawrence Public Library, and PBS's Great American Read with KCPT, encourage community research and engaged scholarship through shared expertise, collections, and resources.
Faculty and researchers from all corners of campus discover the libraries is a place where they can showcase their scholarly endeavors and reach a broader audience through presentations and exhibits. KU Libraries also preserves KU's rich historic legacy through University Archives. It's easy to understand that Archives is the keeper of images that document Homecoming or the transformation of our campus grounds. Yet it also preserves the documents of many of KU's student organizations throughout the years.
Leading for the Future
KU Libraries does great work to deliver, facilitate, and propel the essence of KU — research, learning and service that are the hallmark of the nation's top research institutions. It's fitting that the health and strength of KU Libraries should be a concern for us all.
Late last fall Dean Kevin Smith and I announced that steep increases in subscription prices would affect KU Libraries' ability to offer access to certain scholarly journals. KU is not alone in confronting this challenge, and we will continue our work to negotiate optimal pricing as well as broad access.
Our efforts to develop a new budget model will also help KU recognize and better support aspects of our campus, such as KU Libraries, that are essential to our collective and individual success.
You, too, play an important role in the strength of KU Libraries. At a Library Collections Forum on April 22, Dean Smith will provide an update on scholarly subscriptions and publisher negotiations. He'll also hear your concerns and answer your questions.
It is important that we know your needs for learning, research, and teaching. Please take the time to appreciate and support KU Libraries with the same commitment that KU Libraries demonstrates for KU.
---
News & Notes
Commencement: There's an app for that. The app includes Commencement-related events, maps, accessibility information, and what to know about the walk down the Hill and the ceremony, which begins at 10:30 a.m., Sunday, May 19. Visit commencement.ku.edu on your mobile device and click the link for "Get the App." When the app opens select the menu option and the "Install the App" button to add the icon to your device. Faculty are invited to don their regalia and lead the walk down the Hill to form a gauntlet for graduates to pass through in Memorial Stadium.
____
In a community of more than 30,000 people, minor and even serious illnesses or injuries happen. Our campus community is no exception. There is help close by and actions you should take if you—or someone else—needs medical attention on campus. Learn more.
____
Congratulations to Professor of Spanish Stuart Day who was recently appointed the new associate vice chancellor of the KU Edwards Campus. Beginning in mid-May, he will lead a team of faculty and staff administrators as they develop and enhance workforce-related academic programs, increase partnerships with the Lawrence and KU Medical Center campuses, and build deeper relationships with community colleges and other partners in the region.
____
Professor of Curriculum and Instruction Heidi Hallman will present "Learning to Teach in Uncertain Times" as the 2019 Budig Teaching Professorship in Education award recipient in the School of Education. The lecture will be at 4:30 p.m., Wednesday, April 17, in 150 Joseph R. Pearson Hall. All are welcome, and a reception will follow.
____
The Big Event is scheduled for Saturday, April 27. The annual event helps connect thousands of KU community members with the Lawrence community through a variety of volunteer job sites. KU volunteers — students, faculty and staff — must register in advance.
____
The "What Were You Wearing" exhibit, an art installation depicting clothes worn by student-survivors of sexual assault, runs from April 16 to April 26 at the Kansas Union Gallery. Sponsored by the Sexual Assault and Prevention Education Center, it is one of many activities during Sexual Assault Awareness Month.
____
Faculty and staff are encouraged to complete the Diversity Foundations online module by May 15. The program offers tools and resources that help faculty and staff better respond to incidents of malicious intent. The program takes a little more than an hour to complete after logging into the MyTalent system.
____
The Spencer Museum of Art Day of Creativity will be from 1 p.m. to 4 p.m., Saturday, April 27, at the museum. This free, all-ages event includes hands-on activities, demonstrations and performances that celebrate creativity. The Spencer also continues its "The Power of Place" exhibition through June 30. "The Power of Place" features the works of 30 KU alumni artists.
____
Congratulations to the cadre and cadets of KU Army ROTC. The Jayhawk Battalion is celebrating 100 years at the university. Events include an anniversary ball with remarks by Brig. Gen. John R. Evans Jr., commander of U.S. Army Cadet Command at Fort Knox.
____
Applications for the 2019-2020 cohort of Senior Administrative Fellows are due on May 24. The program, coordinated by the Office of Faculty Development, assists tenured faculty members who are interested in learning more about administration. Selected faculty can explore administration roles and responsibilities without taking away from teaching, service or research.
____
KU Libraries' Gallery Lecture Series will feature the award-winning KU Debate Team, with Director and Coach Scott Harris at 9:30 a.m., Friday, April 26, in Watson Library, 3 West. The team will stage a mock debate, which will be followed by a Q&A session.
____
The Department of Spanish and Portuguese will host a presentation by Lise Fernanda Sedrez at 4 p.m., Tuesday, April 16, in the English Room of the Kansas Union. Sedrez, a professor at Instituto de Historia, Universidade Federal do Rio de Janeiro, will present "Environmental Policies in Times of Climate Denial: The Rightward Turn in Brazil. The event is co-sponsored by the Environmental Studies Program and the Center for Latin American & Caribbean Studies.  
____
The Institute for Policy & Social Research will present Hans Harmsen, archaeologist and curator of the Greenland National Museum and Archives, who will present "Vanishing Histories: Greenland, Climate Change & the Threat to Archaeological Heritage" at 4 p.m. Friday, April 19, in 317 Lindley Hall. A meet-and-greet will precede the colloquium at 3:30 p.m. in 205 Lindley Hall. All are welcome to the events.
Carl
--
Carl Lejuez
Interim Provost and Executive Vice Chancellor
Follow me on Twitter at @KUProvostCarl and the Provost Office at @KUProvost. Join the office on Facebook at /KUprovostoffice/. Join the office on Instagram at /KUprovost/.