Milestones on our Journey toward Equity and Inclusion
---
Estimated reading time: 4 minutes, 25 seconds
Students, staff, and faculty: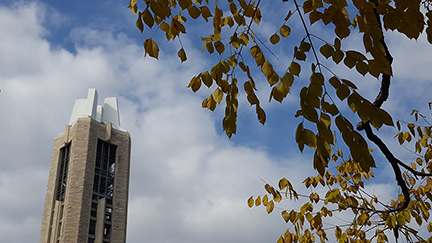 In the fall of 2015, before I officially started at the University of Kansas, I made a special trip to KU from Maryland. Tensions were high across the nation and then Chancellor Bernadette Gray-Little scheduled a town hall on race, respect, and free speech. I was in Woodruff Auditorium during the contentious event and could see the emotional pain experienced by too many members of the KU community. It was a tough night — a wake-up call for some — but for others in our community a chance to express how they felt about our institutional flaws and the challenges we would have to overcome to make KU better for all.
Professor Jennifer Hamer, now our vice provost for Diversity and Equity, was also in the audience that evening in Woodruff. It was clear she had ideas and plans on how KU could be better, and we shared a vision for change that we agreed was necessary. Today, looking back, we can see the distance we've come with her leadership in this vice provost role. Make no mistake, no one is declaring victory, and I am painfully aware every day how much there still is to do, but I believe we are mindful of the work we must continue to do to make KU an inclusive institution for all our community.
Vice Provost Hamer will leave KU at the end of the academic year, and I think it's a fitting time to reflect on the changes and advances she's led in the past few years. Hamer, her team, and countless others all across campus have been working both in view of the community and behind the scenes to address concerns, find solutions and build a more inclusive and equitable KU. Here are some of the many ways her leadership has had an impact:
Launching Jayhawk Student One Stop to aid students, especially first-generation students, in navigating the rules and resources available on campus.
Developing and facilitating workshops to help faculty and graduate students hone their skills in leading challenging classroom conversations.
Shifting the Center for Sexuality and Gender Diversity from a student-led initiative to a university office with a permanent budget. It's grown from a staff of one with volunteers to a staff of 2.5 FTE with a crew of volunteers.
Appointing a director of academic inclusion to collaborate with the Center for Teaching Excellence and the Office of Multicultural Affairs. The director offers guidance to faculty and instructors on methods of creating more inclusive classrooms and improving course syllabi, and facilitates conversations between students and instructors when missteps occur in the classroom.
Launching of Spanish-language admissions materials to better serve multilingual prospective students and their families.
Expanding the faculty and staff identity councils to better reflect the breadth and voices of diversity at KU, including a disability faculty and staff council, an international faculty and staff council, and a women of color network.
Forming a Family Friendly Policies Workgroup to examine how KU fosters and supports an environment that recognizes the beauty and messiness of life.
Developing support services for undocumented students and students from mixed-status families.
Rebooting the Kansas Board of Regents Tilford Conference. KU will host the annual diversity in higher education conference for the next two years. This central opportunity to learn will be open and free to all in the region.
Implementing the Excellence in Diversity hiring guide handbook on campus. The handbook, which nurtures a stronger applicant pool, is being piloted this year with faculty hiring.
Addressing issues of civility through the new KU Workplace Improvement Team. KU WIT also develops institution-level corrective and pre-emptive protocols.
And dozens, maybe even hundreds, of initiatives in units all across campus. Examples include Student Affairs' support for additional of staffing in Counseling and Psychological Services, and Undergraduate Studies' Adidas Leadership Scholars enrichment program that promotes the success of first-generation, low-income, and historically underrepresented minority students.
Past, Present, and Future
In the 1960s, campus was a site for several civil rights protests. In the '70s we saw students also protesting the Vietnam War and fighting for the rights of women. This spring the Emily Taylor Center for Women and Gender Equity marks the 50th anniversary of KU Women's Hall of Fame. This milestone confirms that raising awareness about the challenges and experiences of our marginalized communities is not new to KU and recognizing efforts to bring about improvements is worthy of our participation and support. While the focus of our movements may shift over time, the work is just as significant today as it was 50 (or more) years ago.
Even as we say goodbye to Vice Provost Hamer, this institution remains committed to diversity, equity and inclusion. Very soon, I'll announce plans to appoint an interim vice provost for the Office of Diversity and Equity. Through this office and our strengthening DEI leadership within the schools and the College, we will continue to do meaningful work and establish new partnerships in campus offices that serve students, staff, and faculty.
We can be proud of the strong foundation that is now in place and thankful for the people who've invested their ideas, time, and energy to make it happen. Clearly, positive change is possible when we work collectively toward shared goals. I'm looking forward to continuing the work and the many more advances we will make in the future.
---
News & Notes
The Kansas Supreme Court is on campus Monday, April 1. A Q&A session with justices will take place at 2 p.m. in Forum D of the Burge Union. Be present for history in the making with oral arguments heard from 6:30 p.m. to 8 p.m. at the Lied Center. In keeping with Supreme Court practices, attendees will pass through security screening. No food or drink, large purses, backpacks, bags, or weapons are allowed.
____
Graduate Student Appreciation Week at KU runs April 1-5. Offices across campus will take part in a variety of activities to show their support for graduate students. The week ends with the Red Hot Graduate Research at 4 p.m., Friday, April 5, in The Commons. An awards ceremony coordinated by the Office of Graduate Studies is scheduled for April 24.
____
Mark your calendars to attend the 22nd Annual Undergraduate Research Symposium. The event will be the afternoon of Saturday, April 27 in the Kansas Union and The Commons in Spooner Hall.
____
The Office of Global Operations and Security previously shared information about export controls and fundamental research in its monthly newsletter. This month the office merges the topics to inform campus on what to do when research no longer meets the fundamental research requirements and is subject to export controls. Read more here.
____
The Self Graduate Fellowship welcomes internationally-renowned neuroscientist and biological anthropologist Helen Fisher for the 2019 Symposium Lecture, a discussion on "The Neuroscience of Innovation." The event will begin at 4:30 p.m., Friday, April 12, in Woodruff Auditorium of the Kansas Union. Fisher's research shows how understanding the biology behind personality styles can be used to build teams and corporate boards, advertise, innovate, and succeed at work. Fisher has been named a TED All-Star and one of "the 15 most amazing women in science today" by Business Insider.
____
The deadline to submit proposals for the 2019 National Conference of the Alliance for the Arts in Research Universities (A2RU) is Friday, April 5. Several campus partners, including the Spencer Museum of Art and The Commons are collaborating to host the national conference Nov. 7-9 at KU. Learn more about the proposal process here.
____
William Allen White Day activities include a free screening of the documentary film "William Allen White: What's the Matter With Kansas" directed by Academy Award winning filmmaker and Professor Kevin Willmott. 6 p.m. to 7:30 p.m., Wednesday, April 10, in 3139 Wescoe Hall.
____
April is Sexual Assault Awareness Month. The Sexual Assault Prevention and Education Center, Watkins Health Services and the Center for Sexuality and Gender Diversity are hosting a wide variety of events and activities this month to raise awareness, promote better health, advocate for consent and celebrate gender diversity.
____
The 2019 George and Eleanor Woodyard Lecture, sponsored by the Department of Spanish and Portuguese, will be 4:30 p.m. to 6:30 p.m., Thursday, April 4, in the Malott Room of the Kansas Union. Sabastiaan Faber, professor of Hispanic studies at Oberlin College, with present "Humanist as Image Detective: Spanish Civil War Photography from Metonymy to Metaphor and Back Again."
____
The 2019 KU Powwow & Indigenous Cultures Festival takes place from 11 a.m. to 10 p.m., Saturday, April 6, at the Lied Center. The event features a tipi unveiling at 11 a.m., kids activities, workshops and more. Powwow Grand Entry starts at 1 p.m. and 6 p.m. Volunteers are still needed for this free community event.
____
The School of Social Welfare will host the Celebration of Interprofessional Education and Collaboration from 3 p.m. to 5 p.m., Wednesday, April 17, at the Lied Center Pavilion. The free event will include informal networking, a poster presentation and remarks by Dean of Social Welfare Michelle Carney and Associate Dean of Nursing Teri Kennedy. Please RSVP April 11.
____
Congratulations to professors Peter Bobkowski, Sherry Fowler, Marcy Lascano, Benjamin Rosenthal and Paul Scott, who were all selected to receive the Keeler Family Intra-University Professorship during the 2019-2020 academic year. The Keeler Professorship allows faculty to explore scholarly dynamics in partnership with a different KU department.
____
The Emily Taylor Center for Women and Gender Equity will host its annual recognition awards program at 6:30 p.m., Thursday, April 11, in Forums C and D of the Burge Union. The free event celebrates trailblazers, role models and student who inspire and motivate others to challenge the status quo and advance gender equity.
____
Big Jay's Recess will be 6 p.m. to 8 p.m., Thursday, April 4, at the Adams Alumni Center and Sabatini Multicultural Resource Center. Students, staff and faculty are encouraged to stop by, have fun and enjoy time together. There will be free food, grocery bingo, outside games and more.  The annual event is sponsored by the Office of Multicultural Affairs, the KU Student Alumni Network, and the Student Involvement and Leadership Center.
Carl
--
Carl Lejuez
Interim Provost and Executive Vice Chancellor
Follow me on Twitter at @KUProvostCarl and the Provost Office at @KUProvost. Join the office on Facebook at /KUprovostoffice/. Join the office on Instagram at /KUprovost/.