Estimated reading time: 4 minutes, 57 seconds
Dear students, staff and faculty: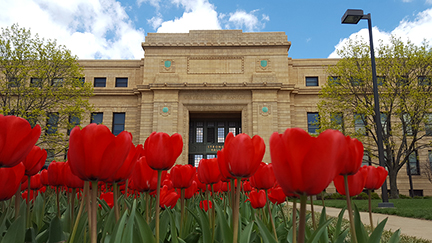 Significant advances are often fueled by strong data. News of the recent University of Kansas breakthrough in cancer detection tools had me thinking about parallels. Here at KU we have many units that regularly harness data and data analysis to improve their service delivery and achieve desired outcomes.
In STEM and related fields, success comes from knowing what to look for, where to look for it and how to measure it. The implications of accurate data and appropriate context are far reaching and touch on many facets of our lives including business, education and communications. While there are many units I could highlight, two KU offices that rely on strong data are the Offices of Enrollment Management and Undergraduate Studies.
Enrollment Management uses data every day to monitor and hone its activities. Staff in the office can track where the KU recruitment messages and strategies are connecting with prospective students and similarly can identify where additional effort may be needed. Data help KU recognize and connect with top students in Kansas and across the country. And each bit of data Admissions collects and analyzes helps tell the story of the quality, origins and potential of the incoming class. At a time when many of our peers are struggling with dipping enrollment numbers, our team at Enrollment Management has succeeded in increasing the academic qualifications of our incoming student body while keeping enrollment numbers steady. It's an accomplishment that can be easy to overlook, but is truly impressive.
Analytics also helps us focus our resources to be more efficient and direct help where it's needed most. The Office of Undergraduate Studies and the Undergraduate Advising Network use predictive analytics to help all students achieve to the best of their abilities. The recently launched Jayhawk GPS (Guidance, Persistence, Success) uses technology, predictive analytics and relationship management tools to determine how best to deploy staff, including advisors and retention specialists, as well as to provide early alerts that lead students to persist in their coursework and succeed in their degree pursuit.
Data for Decisions
In the movie "Anchorman," actor and Jayhawk Paul Rudd, as reporter Brian Fantana, delivered one of the greatest lines involving data, "Sixty percent of the time, it works every time." The movie moment illustrates one of the great hazards of data and analysis — if you don't know what's a meaningful metric, decisions based on those metrics could be flawed.
At KU we've been fortunate to have several staff members who excel in collecting data and transforming it into telling information that helps campus leaders identify opportunities, create strategies and measure outcomes. Today, in fact, many of those staff members are taking part in the first Data Camp. Participants from across campus are learning more about data-related resources on campus and exploring new ways to best incorporate data into their unit decisions right now.
This work has profound implications for KU's future, too. The new budget allocation model we are developing expects our academic and academic service units to be accountable for their efforts and activities. A portion of their allocations will be determined by the measurable outcomes toward their unit goals. Data and analytics will help us answer important questions:
Are we making decisions that can be backed by meaningful data?
Are we achieving or advancing in areas of importance?
The answers help ensure we are more transparent and more efficient in our activities — focusing our resources and efforts on programs we can and want to affect. Data and analysis can help us model the need for greater support in areas and can demonstrate where we want to invest and, conversely, where we don't want to invest.
I don't believe data will solve all our problems. We still need people to think big, have dreams and create excitement around what this university is and can be. But I do believe data analytics is critical to our university's success. We already see data doing some heavy lifting to make us more efficient in student recruitment and to help more students succeed once they begin their academic journey.
I also believe it's exciting to think about how accurate data used in the right contexts can help KU make great decisions that improve our programs, support our people and elevate our stature. Deb Teeter, director of our Office of Institutional Research and Planning, has been an amazing asset for KU and has laid the foundation for future achievements. Later this week we'll have news about changes ahead for OIRP and the Business Intelligence Center. The goals will be to further develop capabilities of our data warehouse, increase availability of tools that provide answers to the questions that we already know are central to our success and increase responsivity to requests. Our new data efforts will include guidelines for how we bring data into the warehouse and how it can be accessed publically. We also expect to create a data advisory board consisting of faculty, staff, and students that will increase shared governance. Nick Stevens, director of the Business Intelligence Center, will be reaching out soon to gather nominations for this advisory board.
A New Era
As much as I look forward to the possibilities offered through harnessing data and analytics, I know that people make the difference at KU. As most of you are aware, Interim Dean of the College of Liberal Arts & Sciences Clarence Lang and Vice Provost for Diversity & Equity Jennifer Hamer will leave KU at the end of the academic year. I wish them continued success in their new roles at Penn State University. Later this week I will request nominations and any other feedback on the dean's position with a plan to announce the interim after this period. Once the interim dean has been named, I will reach out with the same process for the interim vice provost for Diversity and Equity. I expect both positions will be named in early April with both starting soon after the end of the spring semester.
---
News & Notes
Nominations for the KU Academic Advisor of the Year Award are being accepted until March 25. The award recognizes those who exemplify excellence in undergraduate academic advising. Nominees must be full-time KU employees who spend at least 50 percent of their time on direct delivery of academic advising to undergraduate students. More information about qualifications and the nomination form can be found on the 2019 KU Advisor of the Year Award website.
____
The exhibit "Looking at Food (Insecurity)" will be at the Kansas Union Gallery from March 25 to April 12. Curated by Professor of Public Affairs and Administration Stacey Swearingen White, a faculty fellow in the Office of Student Affairs, this exhibit includes photographs and quotes that depict the lives of KU students who are experiencing food insecurity. Donations of shelf-stable food items, personal hygiene items, and basic cooking and household utensils will be collected through the duration of the exhibit and given to the KU Campus Cupboard. An opening reception will be from 5 p.m. to 7 p.m. on Tuesday, March 26.
____
The Center for Global and International Studies will host a discussion with Mary Mitchell O'Connor, Irish Minister of State for Higher Education, at 1:30 p.m., Monday, March 18, in the Centennial Room of the Kansas Union. The event will include discussion of Brexit with a special focus on its impact on Ireland, Northern Ireland, and the EU as a whole. Q & A will follow.
____
Associate Professor of Operations and Supply Chain Management Suman Mallik at the University of Kansas will deliver the annual Byron T. Shutz Lecture at 3:30 p.m., Thursday, March 28, in the Big 12 Room of the Kansas Union. All are welcome to attend "My Research and the Science of Better." A reception will follow.
____
Congratulations to Professor Sarah Deer who joins a prestigious group of individuals who will be inducted into the National Women's Hall of Fame in September. Deer – who holds a joint appointment in the School of Public Affairs and Administration and the Department of Women, Gender and Sexuality Studies – is being recognized for her work on the Violence Against Women Act and the Tribal Law and Order Act, and her advocacy around issues of sexual assault and domestic violence in indigenous communities.
____
Professor of Civil, Environmental & Architectural Engineering Andres Lepage was named one of the construction industry's top 25 newsmakers by Engineering News-Record's. He's being recognized for his research findings into walls reinforced with Grade 100 rebar. The work that lays the foundation for historic code changes related to seismic design. This year's honorees will be recognized at a gala on Thursday, March 21, in New York City.
____
The annual KU Powwow and Indigenous Cultures Festival, organized by the KU First Nations Student Association and several campus and regional partners, begins at 10 a.m., Saturday, April 6, at the Lied Center. Activities and events leading to up to the powwow begin March 26 and include artist talks, a live painting, film screenings and much more. Visit the FNSA Facebook page to learn more.
____
Applications for a number of LGBTQIA+ scholarships for the 2019-2020 academic year are now being accepted by the Center for Sexuality and Gender Diversity. Learn about all the opportunities at the SGD website. The deadline to apply is April 9.
____
Through the efforts of KU Student Senate, all Lawrence students have free online access to the New York Times. Activate an account at https://rockcha.lk/NYTimes4Jayhawks. Faculty and staff are not eligible.
____
The KU Center for Sustainability is currently accepting nominations for the 12th Annual Sustainability Leadership Awards. The awards recognize students, faculty, and staff, and programs and projects that have led to important contributions to sustainability and promoted environmental, economic, and social responsibility. Nominations are due by noon on Friday, March 29.  Winners will be recognized during a Center for Sustainability Open House on Friday, April 19.
____
The KU Alumni Association is hosting Thank Goodness It's Thursday (TGIT) events throughout the semester to celebrate and recognize KU faculty and staff. Join the KU Alumni Association and KU colleagues from 4 p.m. to 6 p.m., March 28 and April 18, at the Adams Alumni Center for light snacks, drink specials, giveaways, games and networking.
____
Visit How To KU to fine-tune some tech skills or learn something new. The site includes information about and details on workshops related to a number of technology tools available at KU.  Offerings include SharePoint, Blackboard, Adobe Creative Products, Outlook Skype for Business, Zoom and more.
Carl
--
Carl Lejuez
Interim Provost and Executive Vice Chancellor
Follow me on Twitter at @KUProvostCarl and the Provost Office at @KUProvost. Join the office on Facebook at /KUprovostoffice/. Join the office on Instagram at /KUprovost/.