What it Means to be a Research University
---
Estimated reading time: 5 minutes, 10 seconds
Dear students, staff and faculty: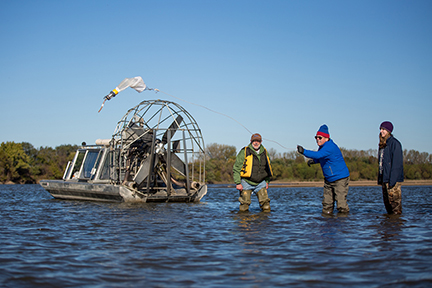 As one of only 62 members in the prestigious Association of American Universities (AAU), the University of Kansas is recognized as one of the top research universities in the world. Our status is due in large part to faculty and staff who, in addition to being top research minds, go the extra mile to succeed in a hyper-competitive funding and publishing environment. KU researchers lead the way in many fields where we have a long record of success in areas as diverse as intellectual and developmental disabilities, child psychology and pharmaceutical chemistry. They also are leading in new areas with unlimited potential such as cybersecurity, precision medicine focused on cancer, and addiction – all areas benefitting from ground-breaking fundamental studies and significant interdisciplinary collaborations across the Lawrence campus and with the KU Medical Center. As an administration, it is our role to promote and facilitate the successes of KU's research endeavors and to constantly seek strategic ways to support and advocate for those leading these endeavors.
Investments through Seed Funding
In addition to the General Research Fund that has been a staple of research support, the university has seen a resurgence in internal seed funding for research in the past few years. This includes the Grant Opportunity (GO) program from the KU Office of Research. GO expands our research enterprise by underwriting proposal preparation for external funding opportunities. Through starter grants focused on the generation of new external awards, the Office of Research will provide a total of $250,000 through its two rounds of GO funding this academic year. Additionally, the College of Liberal Arts & Sciences has just completed its second year of the Research Excellence Initiative. Funded exclusively by philanthropic gifts, this annual initiative has already provided over $500,000 in funding with several of the awards from the first year already leading to external research funding. These two new programs are complemented by a wide range of internal research support mechanisms from scholarly centers like the Hall Center for the Humanities or the Spencer Museum of Art. Support programs from several of our schools further faculty success, such as the School of Journalism and Mass Communications' summer research awards that have already yielded nationally recognized scholarship on race and acculturation. The School of Education has funded a faculty research support program for over a decade. Collectively, our researchers now have more access to internal support that helps them develop new ideas to enhance competitiveness for external funding, bridge funding between awards, and support students.
Benefitting from New Facilities
Investing in our scholars means providing the necessary facilities to support their cutting-edge research and teaching. This includes new buildings that dramatically shape our contributions in the STEM fields including the Integrated Science Building (ISB), M2SEC, LEEP2, Slawson and Ritchie Halls, the NSA Science of Security Lablet, and the Engineering Structural Testing and Student Project Facility. As we consider how to modernize all our facilities, KU is making great progress with new laboratories, equipment and capabilities to lead discovery in the region and the nation.
The crucial upgrades in our facilities aren't limited to the STEM fields. Capitol Federal Hall is providing a wide range of entrepreneurial opportunities for the students and faculty in the School of Business, while the creative possibilities at the heart of the School of the Arts were given a big boost with the new soundstage for the Department of Film and Media Studies in renovated Summerfield Hall.
Some facilities advancements are the result of the hard work and expertise of our own faculty and students. The Forum at Marvin Hall, Hill Engineering Research and Development Center, and the Center for Design Research were all designed and built by students in Distinguished Professor Dan Rockhill's Studio 804 program.
The Importance of Research Leadership and Sharing our Story
The backbone of our research endeavor is the KU Office of Research. I have appreciated the opportunity to work closely with leadership and staff at the Office of Research to identify existing strengths and new opportunities in how we administer and support research at KU. With the assistance of a talented and dedicated staff, Interim Vice Chancellor for Research John Colombo and Distinguished Professor Rodolfo Torres, who served previously in this role, have provided strong leadership in their interim roles while we have undertaken a national search for a permanent director. In the coming days I will share exciting news about the next step in this transition.
In addition to providing the infrastructure for our research, it is important that we promote our research success and impact. From new discoveries that solve societal problems, to compelling scholarship that helps make sense of a complex world, to the development of creative works that inspire, KU research is truly at the core of our identity and our contributions. While I appreciate the values that underlie Kansas humility, pride should be at the center of how we talk about the important work being done by our students, staff, and faculty.
That goal is why the hard work of our communicators across campus is so valuable, and why the addition of a new director of communications for the Office of Research, Mindie Paget, is so timely. And while broad university and unit-level communications are crucial, our story is best told by those doing the work, with our faculty frequently giving presentations in academic and public settings, as well as contributing views in their areas of expertise across multiple media formats that provide great exposure to the work done at the university. I am particularly excited about the opportunity students will have next week to share their research experiences and findings with our state legislators, the Kansas Board of Regents, policy influencers, and statehouse visitors at the Capitol in Topeka.
Our investment in people, places and programs — supported by units such as the Center for Undergraduate Research, the Office of Graduate Studies and KU Libraries — creates a culture that prizes discovery, innovation and creation. The depth and breadth of research at KU is what makes us stand out in this state. The excellence in our endeavors is what makes us stand out in the nation. Finally, our goal to use research to make the State of Kansas and beyond better is what makes us stand out as people.
---
News and Notes
Thank you to KU facilities crews who really went the extra mile to prepare campus during our extraordinary weather circumstances this winter. Also, thank you to the other weather-essential personnel who faced the harsh elements to be at work and serve the KU community.
____
KU Information Technology, in partnership with KU Libraries, is providing walk-up IT support on the third floor of Anschutz Library. Look for the new Customer Support Center to the right as you enter the main library doors. In-person, phone (785-864-8080) and email support hours are: 8 a.m. to 8 p.m., Monday through Thursday; 8 a.m. to 5 p.m., Friday; 10 a.m. to 6 p.m., Saturday; and noon to 8 p.m., Sunday. Walk-up service will not be available when Anschutz Library is closed.
____
Congratulations to Foundation Distinguished Professor of Chemical and Petroleum Engineering Mark Shiflett who was named a fellow of the National Academy of Inventors. Shiflett, who conducts research at the Center for Environmentally Beneficial Catalysis, holds 44 patents. His most notable inventions include three energy-efficient refrigerant mixtures for replacing chlorofluorocarbons (CFCs) in refrigeration applications.
____
One Day One KU returns again this year on Feb. 20, for 24 hours of giving. The philanthropic event marks the day in 1863 that KU was designated to be located in Lawrence. In 2018, donors supported a wide variety KU of programs to the tune of more than $725,000. Learn more about match opportunities and how you can help others support your KU passions.
____
University Press of Kansas has launched a new supplementary publishing services program for scholars interested in increasing the impact of their work. Services run the gamut from typesetting, proofreading, cover design as well as eBook conversion, connecting to online retailers and marketing and promotion efforts. Contact upkpubservics@ku.edu for more information.
____
A Campus Budget Conversation will take place from 11:30 a.m. to 1 p.m., on Tuesday, Feb. 26, in Watson Library 3 West. Individuals can also join in through Zoom video conferencing service on their computer or mobile device. KU Information Technology provides complete instructions on how to download and sign on to Zoom. More information is available online.
____
KU is a tobacco free, smoke free and vape free environment.  All forms of tobacco use and simulated smoking device use is prohibited on the Lawrence and Edwards campus unless it occurs in one's personal vehicle. Learn more about the policy and find support to end tobacco use at tobaccofree.ku.edu.
____
The KU Office of Research is now accepting nominations for the Higuchi-KU Endowment Research Achievement Awards. The four awards recognize individuals at KU and the other Kansas Board of Regents institutions for their accomplishments in research, scholarship and creative activity. Nominations are due May 1.
____
The 4th Annual International Jayhawk Festival has been rescheduled to 4 p.m. to 7 p.m., Thursday, Feb. 21, in the Daisy Hill Commons. Sponsored by Study Abroad and Global Engagement the event celebrates KU's global community and programs. There will be food, art, games, performances and a study abroad fair. 
____
Author Donna Zuckerberg, "Not All Dead White Men," will give the keynote address for KU Masculinities Month at 6 p.m., Wednesday, Feb. 13, in Forum A of the Burge Union. The program is sponsored by the Emily Taylor Center for Women and Gender Equity and several campus partners. Zuckerberg will also be the guest at Coffee @ The Commons, 10 a.m. to 11 a.m., Thursday, April 14 at The Commons in Spooner Hall. All are welcome.
____
Join the Office of Multicultural Affairs and doctoral student Anthony Boynton for Spotlight Series #3: Black Histories and Black Futures at noon, Wednesday, Feb. 20, at the Sabatini Multicultural Center. Boynton is a culture critic and creative writer who writes about the future, popular culture, gender and blackness.
____
The Natural History Museum and KU Biodiversity Institute will have collections on display from 11:30 a.m. to 1 p.m., Tuesday, Feb. 12, in the Traditions Area of the Kansas Union. Graduate students will be on hand to discuss a sampling of the 9 million specimens in KU's collections.
____
Hundreds of employers will be on campus this week to make connections with KU students. Good luck to all looking for a full-time position or internship, and even students learning about how career fairs work. The University Career Fair, 1 p.m. to 4 p.m., Wednesday, Feb. 13, Kansas Union. The Engineering & Computing Career Fair will be from noon to 4 p.m., Thursday, Feb. 14, in the Kansas Union. Faculty, be sure to take advantage of these events to make connections with recruiters.
____
Share The Love, sponsored by the School of Languages, Literatures & Cultures, returns on Thursday, Feb. 14. Go to Wescoe Beach from 11 a.m. to 2 p.m. on Valentine's Day to make a card, learn a phrase or two in a foreign language, and get a free rose for yourself or someone special.
____
A small group of KU undergraduate students will present their original research under the Kansas Statehouse dome on Wednesday, Feb. 20. Graduate students will take part in the Capitol Graduate Research Summit on Tuesday, Feb. 26. Good luck to all.
Carl
--
Carl Lejuez
Interim Provost and Executive Vice Chancellor
Follow me on Twitter at @KUProvostCarl and the Provost Office at @KUProvost. Join the office on Facebook at /KUprovostoffice/. Join the office on Instagram at /KUprovost/.