The Power of Graduate Study
---
Estimated reading time: 5 min., 51 sec.
Students, faculty and staff,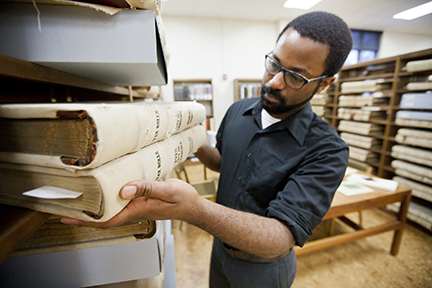 I've known since I was a freshman in college that I wanted to be a professor in clinical psychology (actually well before then, but that is a longer story). What I wasn't certain of was the path to achieve that goal. I had a rocky start as an undergraduate, and as a first-generation student with limited sense of how a university worked, I fell through the cracks. It wasn't until I found a mentor, my senior year, that I understood what graduate study could do for me, and what I needed to do to be competitive for admission – even if that would take me a few years of research experiences after graduation to make up for my slow start as an undergraduate.
It was clear to me why students might need graduate education to accomplish their goals, but what I quickly learned once I entered my graduate program was how much the university I attended depended on graduate students to accomplish its goals. It's no less true here; graduate education and graduate students are vital to the mission of the University of Kansas.
Our mission calls us to educate leaders, build healthy communities and make discoveries that change the world. It's our graduate students who, while engaging in their own academic work, take key roles in the education of our undergraduate students and our commitment to producing innovative research and creative works. They are at the heart of KU's status in the prestigious Association of American Universities.
Community of Mentors
The faculty and staff of KU have a responsibility to help students find their calling, harness their talents and build their skills, and, when appropriate, pursue an advanced degree. It's particularly encouraging to see so many faculty who are willing to be those mentors and give students the strategic nudge – often with financial support through research and training grants – to pursue their best selves.
Interim Dean of Graduate Studies Audrey Lamb shared some observations with me recently. She's involved in both an NIH Chemical Biology training grant for doctoral students and the multidisciplinary Chemical Biology Certificate Program open to all graduate students pursuing careers in biomedical fields. The programs primarily involve faculty from Chemistry and Molecular Biosciences in the College of Liberal Arts & Sciences and faculty in Pharmaceutical Chemistry and Medicinal Chemistry in the School of Pharmacy. She said the goal of these programs isn't to train all students for all possibilities. Instead, it's to allow each student to match their skills, interests and values to a path. A central component of these programs is learning how to conduct rigorous, reproducible research, but they also include elements that help graduate students with career development. The programs, while encouraging and supporting those who want to continue in academia, recognize that many graduate students will contribute to accomplishments in public service, business and industry. Moreover, the funding for these student-focused programs — as well as funding to support graduate students from individual fellowships and faculty grants — helps recruit the strongest applicants and provides the support students need to excel. For these reasons, this is an area KU is working to emphasize and certainly will continue to focus on.
For graduate students who know joining a university community is their career path, KU has numerous programs that can help them realize their dream. For example, the Center for Teaching Excellence offers a variety of resources to help graduate teaching assistants build a community of mentors and peers and hone their skills and knowledge to help them grow as instructors. Additionally, the Office of International Affairs provides a range of resources and support for our international graduate students who come to us from over 89 countries.
Multiple Roles, Multiple Paths
While we sometimes speak of graduate students as a homogenous group, a hallmark of graduate education at a research university is actually the unique needs, goals, and contributions of our graduate students.
Possibly the area where there is the greatest heterogeneity among graduate students is in their long-term career goals. Similar to the central message of Hermann Hesse's novel "Narcissus and Goldmund," which focused on how mentors have the responsibility of helping their mentees find their own passion and purpose in life, KU faculty and staff have the privilege of helping students navigate the alignment of their current efforts and their long-term goals. For many students, this includes significant decisions about whether they will pursue a career in an academic setting or in one of the seemingly unlimited options outside the academy. We have the opportunity and pleasure of helping individual graduate students find and pursue the right option for them. There are tremendous examples across campus of how KU is making great strides in this area, but as students continue to tell us, this is an area where we can do even more.
In addition to the heterogeneity across students, our graduate students also experience considerable difference in the various roles they are asked to take. Indeed, many graduate students are both students and employees. This duality is exciting and provides a much need tonic to monotony, but students can also find it exhausting and confusing. KU has a responsibility to recognize and celebrate the labor associated with this duality, provide support and acknowledge just how challenging it can be.
Building on Strengths
Supporting graduate education and our graduate students requires constant attention to what's working, where we can improve, and what best practices we can adopt as we evolve. Last Friday I shared the names of members in our new Graduate Studies Advisory Committee and wrote about the focus of two subcommittees – the Refresh Subcommittee and the Re-Imagine Subcommittee. This group will help us consider how KU can best offer centralized support through the Office of Graduate Studies, both in providing a clear and well-articulated university vision for graduate education, and in serving as a strong collaborator with the outstanding localized graduate support available in the College of Liberal Arts & Sciences and our professional schools. This committee will help ensure KU's approach to graduate education is strong, innovative and calibrated to serve today's students and society. Committee member and graduate student Pamela Johnson has also asked me to assemble a graduate student advisory board to ensure the voice of our students influences how KU advances their education.
The value our graduate students and their mentors bring to KU can't really be quantified. When I entered my graduate program I knew I was lucky to do something I felt passionate about. It was because of my mentor, who really supported me and who believed in the virtues of studying something completely and contributing to society, that I was able to find my path. Few days go by when I don't think about how he changed my life and gave me the tools to now do the same for others. I'm proud to be at a university where this spirit of mentorship and support for graduate students is alive and well thanks to some really terrific faculty and staff, and I take seriously my responsibility to lead us in doing more.
---
News and Notes
Community Table is back from 11:30 a.m. to 1 p.m., Wednesday, Jan. 30, in Anschutz Library. Organized by the Office of Diversity & Equity, Community Table is an opportunity for individuals to take a lunch break and build a stronger community. Noodle dishes from Ramen Bowls will be available while supplies last. Free for students staff, and faculty with a current KU ID.
____
The 4th Annual International Jayhawk Festival will be from 4 p.m. to 7 p.m., Thursday, Feb. 7, in the Daisy Hill Commons. Sponsored by Study Abroad and Global Engagement the event celebrates KU's global community and programs. There will be food, art, games, performances and a study abroad fair. 
____
The annual Jana Mackey Distinguished Lecture, coordinated by the Emily Taylor Center for Women and Gender Equity, will be from 6 p.m. to 8 p.m., Tuesday, Feb. 5, in the Kansas Union Ballroom. The free program will feature Fatima Goss Graves, president and CEO of the National Women's Law Center, talking on Title IX.
____
Supervisors: recognize a currently enrolled student employee who embodies service excellence, dedication and academic strength. Nominations for KU Student Employee of the Year are due by 5 p.m. Friday, Feb. 8.
____
Sarah Chavez has joined Jayhawk Student One Stop as a new case manager. Jayhawk SOS is a resource for students experiencing unforeseen challenges. Chavez brings a wealth of experience and expertise supporting individuals in a one-on-one capacity.
____
The kick-off meeting of the Reading for Equity And Diversity (READ) book club for faculty and staff will be 4 p.m., Wednesday, Jan. 30, in the Sabatini Multicultural Resource Center. During the semester, the club will read "So You Want to Talk About Race" by Ijeoma Oluo. Subsequent meetings will be at noon on the first Wednesday of the month. The book is available online and through the KU Bookstore. Contact Annie McBride for more information.
____
One Day One KU returns again this year on Feb. 20 for 24 hours of giving. The philanthropic event marks the day in 1863 that KU was designated to be in Lawrence. In 2018, donors supported a wide variety KU of programs to the tune of more than $725,000. Learn more about match opportunities and how you can help others support your KU passions.
____
KU is committed to offering a campus community free from sexual harassment, sexual misconduct, sexual violence and discrimination. All faculty and staff who have not yet completed the required Harassment/Discrimination, Sexual Misconduct/Violence Reporting Obligations online module are encouraged to do so at their earliest opportunity. Please log in to the MyTalent system before Feb. 28.
____
KU TRIO SES & STEM and the Center for Educational Opportunity Programs will unveil and honor 12 individuals featured on the I Am First Too poster at 5 p.m., Thursday, Jan. 31, in the Kansas Union Ballroom. The poster celebrates Jayhawks who were and are first-generation students and who go above and beyond for other first-generation college students.
____
Proposals for course transformation grants through the Center for Teaching Excellence's C21 and TRESTLE programs are due Monday, Feb. 4. The grants support greater use of student-centered, inclusive, evidence-based teaching practices in KU courses. Learn more at the CTE website.
____
The Department of Spanish and Portuguese and several campus partners are offering a free film screening and Q&A of "Bones of Contention" at 6 p.m., Saturday, Feb. 2, at the Lawrence Arts Center, 940 New Hampshire St. The documentary centers on the repression of lesbians and gays during the dictatorship of Francisco Franco of Spain, which left more than 120,000 victims in unmarked graves.
____
Export controls is complicated. The KU Office of Global Operations & Security (GOS) helps guide faculty and staff and answers questions on U.S. regulatory requirements for proper exporting of physical and intellectual property. Understanding export controls benefits the individual, KU, and U.S. national security and can help prevent fines or sanctions being levied upon individual faculty or staff. To learn more read the January 2019 export and security message.
____
Research faculty and staff are encouraged to submit a proposal for the KU Research Grant Opportunity program from the Office of Research. KU Research GO provides grants that support proposal preparation for external funding opportunities with application deadlines in the near future. KU Research GO proposals due April 1.
____
Happy Kansas Day, Tuesday, Jan. 29. Ad astra per aspera.
Carl
--
Carl Lejuez
Interim Provost and Executive Vice Chancellor
Follow me on Twitter at @KUProvostCarl and the Provost Office at @KUProvost. Join the office on Facebook at /KUprovostoffice/. Join the office on Instagram at /KUprovost/.