Tammara L. Durham
---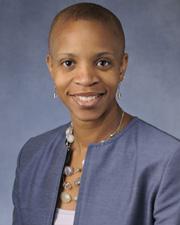 Vice Provost for Student Affairs
Contact Info
Strong Hall, room 133
1450 Jayhawk Blvd.
Lawrence, KS 66045
---
Biography
—
Tammara Durham joined KU in 1998 as assistant director of the Freshman-Sophomore Advising Center. She served as director of the University Advising Center from 2004 to 2011. Durham was named vice provost for student affairs at the University of Kansas in May 2012 after serving as interim vice provost since September 2011. Prior to that, she served as associate vice provost for Student Success since January 2011.
As the vice provost for student affairs, Durham is the senior student affairs officer for the main campus in Lawrence and is responsible for student life, support and leadership programs, student auxiliary services and student-supported wellness programs. The Office of the Vice Provost for Student Affairs coordinates and develops student support services and programs and serves as an advocate for student needs across the university community that contribute to overall academic success.
Durham received her bachelor's and master's degrees from Southwest Missouri State University and her doctorate from the University of Kansas in higher education administration.