Nicole Hodges Persley
---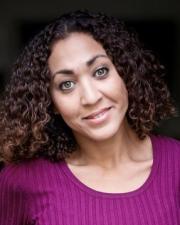 Vice Provost of Diversity, Equity, Inclusion & Belonging
Associate Professor of American Studies and African and African American Studies
Contact Info
For information about this search:
Strong Hall, Room 151
1450 Jayhawk Blvd.
Lawrence, KS 66045
---
Biography
—
Nicole Hodges Persley was named Vice Provost of Diversity, Equity, and Inclusion at the University of Kansas in October 2022 after serving as interim vice provost in January 2022. She is an award-winning professor, artist, and community leader with over fifteen years of experience in diversity, equity, and inclusion work creating intentional equity pathways between academic and creative communities. She is the former Associate Dean of Diversity, Equity and Inclusion in the KU College of Liberal Arts and Sciences.
In addition to her work in DEIB, Hodges Persley has served in several areas of KU administration from Department Chair to Director of Museum Studies. Hodges Persley is an Associate Professor in the Departments of American Studies and African and African American Studies and a faculty Fellow in the KU Honors program where she teaches courses on acting, directing, Hip-Hop Studies, African American Studies, Performance Studies, and transnational performance. She is the author of Sampling and Remixing Blackness in Hip-Hop Theater and Performance (University of Michigan 2021), the anthology Black Matters: The Lewis Morrow Plays  (Bloomsbury/Methuen Drama 2022), and Breaking it Down: Audition Techniques for Actors of the Global Majority, co-authored with Dr. Monica White Ndounou, and the forthcoming book Hip-Hop in Musical Theater (Methuen Drama 2023).
Hodges Persley is a working professional director who specializes in works that explore race and performance in American theater. She has directed critically acclaimed theater and performance works throughout Kansas City, New York, and Los Angeles and is a member of SAG/AFTRA and the Stage Director and Choreographers Society. Hodges Persley has been invited to share here creative and scholarly work internationally as a visiting scholar at The Universität of Regensburg, The University of Paris, and The University of Graz. Dr.
Hodges Persley is the Artistic Director of KC Melting Pot Theater, Kansas City's premier African American theater company and the co-founder of CreateEnsemble.com, the first social media collaboration  platform for artists and allies of the global majority. She received her PhD from The University of Southern California's Department of American Studies & Ethnicity and holds MA degrees in American Studies from USC and African American Studies from UCLA. She is a proud alumna of Spelman College where she studied French and Art History.
Education
—
Ph.D. in American Studies & Ethnicity, University of Southern California Los Angeles
M.A. in African American Studies, University of Southern California Los Angeles
B.A. in French, Spelman College, Atlanta, GA