Barbara Bichelmeyer
---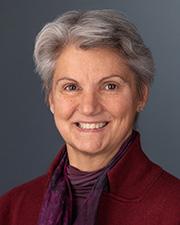 Provost & Executive Vice Chancellor
Chief Learning Officer
Contact Info
Strong Hall, room 250
1450 Jayhawk Blvd.
Lawrence, KS 66045
---
Biography
—
Barbara A. Bichelmeyer, Ph.D., an academic leader in the field instructional design and technology, was appointed provost and executive vice chancellor of the University of Kansas in February 2020. Bichelmeyer, a Kansas City native, also holds an appointment as a professor in the KU School of Education & Human Sciences.
As KU's chief learning officer, she is primarily responsible for advancing the university's mission in concert with the Chancellor, administrators, faculty, staff, and students across the Lawrence campus. She leads the Lawrence campus in championing and furthering the goals outlined in the university's strategic plan.
Prior to joining KU, Dr. Bichelmeyer served as Provost and Executive Vice Chancellor of the University of Missouri-Kansas City, a position she held since August 2015. She had previously served as Executive Associate Vice President for University Academic Affairs for the seven campuses of Indiana University, as well as founder and Senior Director for IU's Office of Online Education. Bichelmeyer was a tenured full professor at Indiana University - Bloomington.
For most of her 30-year career as a faculty member and administrator, Bichelmeyer has examined the process of performance-based instructional design, and how technology is incorporated into classrooms in order to facilitate more personalized learning experiences.
Bichelmeyer earned a bachelor of science in journalism degree in 1982, a bachelor of arts in English in 1986, a master of science in educational policy and administration in 1988, and a doctorate in educational communications and technology in 1991, all from the University of Kansas.
Bichelmeyer has served as consultant for performance-based instructional design, technology integration, human and organization performance effectiveness, and evaluation of instructional and organizational development programs to numerous organizations including the United States Centers for Disease Control and Prevention, the Indiana Supreme Court Commission for Continuing Legal Education, Procter & Gamble, Eli Lilly, Microsoft, Sprint, the United States Coast Guard, and the National Collegiate Athletic Association.