Stories of Resilience: How KU Rallied to Teach Remotely in Spring
---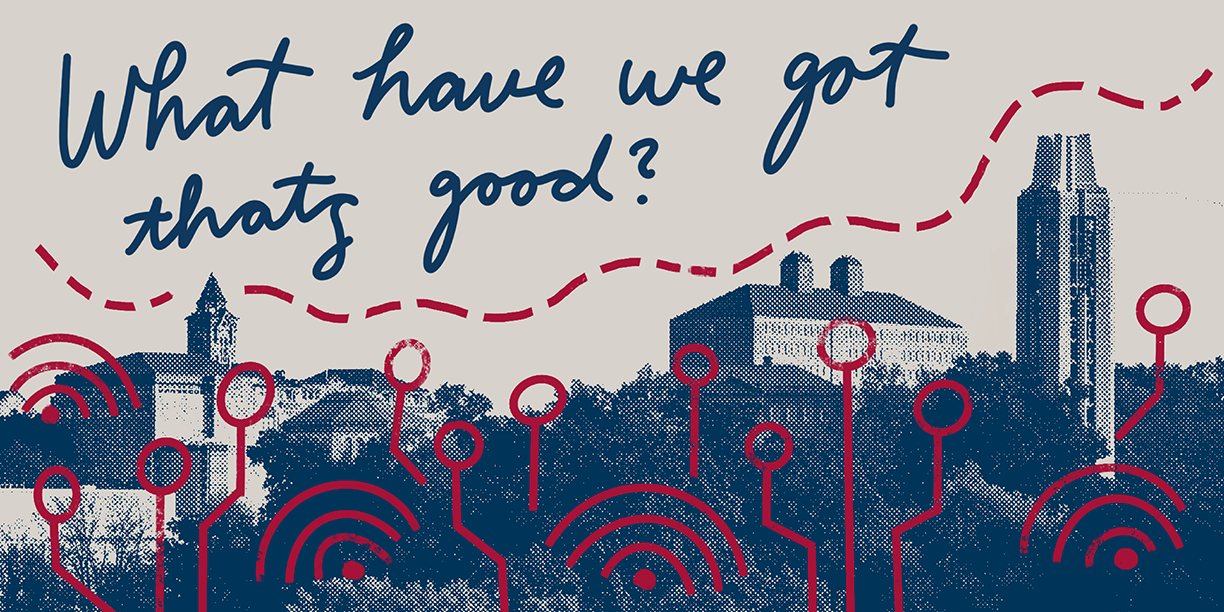 "What have we got on the spacecraft that's good?" That line from the movie Apollo 13 illustrates innovation and resiliency in the face of potential catastrophe.
When the COVID-19 pandemic crashed into our worlds and threatened to crater the spring semester, a response team at the University of Kansas was tasked with assisting all faculty and instructors with a transition to remote teaching and learning. That team started by asking the question, "What have we got that's good?"
This is a story of the transition to online learning from different perspectives: the response team staff, front-line faculty and a student who, despite all the challenges, wouldn't have changed a thing.
----
In mid-March, Robert Tonnies found himself at the center of KU's COVID-19 academic response team. An unassuming man of average height, these pandemic months he keeps his hair buzzed for want of a barber. He's someone many at KU would describe as kind, professional and passionate about his work. Tonnies helps smooth the learning experience through technology as a coordinator of the IT Educational Technology team. Tonnies and his team support Blackboard, the main platform for coursework and grading at KU.
When the COVID-19 pandemic was still a far-off threat in the minds of many, Tonnies remembers a meeting before spring break in which Mary Walsh, KU's chief information officer, semi-casually, in her cool, understated way, kindly asked everyone in attendance to begin preparing for its arrival.
"We need to get ready," Tonnies remembered her saying matter-of-factly. And, sure enough, by that Friday, he and the academic response team – composed of members from KU Information Technology (KU IT), the Center for Teaching Excellence (CTE), the Center for Online and Distance Learning (CODL), individual faculty members and other groups – had begun meeting for roughly four hours a day and would continue meeting until nearly every aspect of a transition to remote learning was as complete as it could be.
The response team started by looking at what tools were on hand to help transition to online learning. "What have we got that's good?" The answer: Blackboard, Zoom, Skype for Business, websites, SharePoint, Microsoft Teams and more.
As the transition got underway, individual faculty members were also taking stock of what was "on hand" and making the most of those assets.
Associate Teaching Professor Jennifer Delgado, bespectacled and with a warm smile that undercuts her analytical demeanor, teaches in the Department of Physics and Astronomy. She and her teaching assistants had to find a way to transition hands-on lab assignments that relied on special equipment.
"I made a Slack channel for our labs and contacted all our TAs. We put together some Google forms so they could let me know what resources they had. And they started coming up with ideas, and I came up with ideas, and together we created a series of at-home labs using what we could find on hand."
Using simple household items such as string, batteries, CD cases, etc., Delgado and her TAs designed experiments that were more about variability than standardization. For some time, even before the pandemic, Delgado had been bothered by what can be the norm in higher education labs: Experiments are often designed with an outcome in mind and students are supposed to follow steps that deliver them to that outcome. There isn't always a lot of room for exploration or learning through failure.
"In our experiments, the goal wasn't to reproduce truth, it was more like 'you try to tell us what you think the relation is between a length of string and its period,'" Delgado said, speaking about an experiment in which students explored how lengths of string could affect a pendulum's cycle. "How reliable are your instruments and their data? We want students to try to pick apart what is there."
In this kind of scientific exploration, probing the largest uncertainties through repeated iterations of a given experiment is the point. Delgado and her TAs want students to repeat these simple experiments over and over, recording their data, finding the unknowns, exploring those unknowns, refining and continuing to tweak. With fall on the horizon, Delgado plans to refine the process over the summer.
"I want to build in a system that would be more similar to observational astronomy or experimental physics. You can't just say 'I have this great idea' and book time with the Large Hadron Collider," Delgado said.
Her goal is to have students compete with their own ideas. First, they try simple experiments on their own at home; then, they iterate until they find a worthy uncertainty. Once they have something truly challenging, then they make the case for using more sophisticated equipment on campus.
Delgado said some of her teaching assistants were really energized by the challenge of having to adapt to the crisis, and one put it best, saying, "This is so exciting! This is the way it should be! Every time there's a challenge we need to innovate! Thanks for doing this."
"But," Delgado said with a laugh, "it was really just this solid two weeks of innovative panic."
For all the talk of innovation and noble goals, though, Delgado says the transition was mentally and emotionally draining, and it would have been impossible without her TAs, many of whom stepped up and put in extra hours to ensure the roughly 1,400 students they served finished the term on as good a footing as possible.
Delgado said her department usually gives out three TA awards, but at the end of the spring semester they awarded five.
"Our TAs were online until midnight in some cases helping students," she said. "We allowed students to turn work right up until stop day, and we had TAs online right up until 11:59 p.m. on May 7 working to make sure students finished on time."
----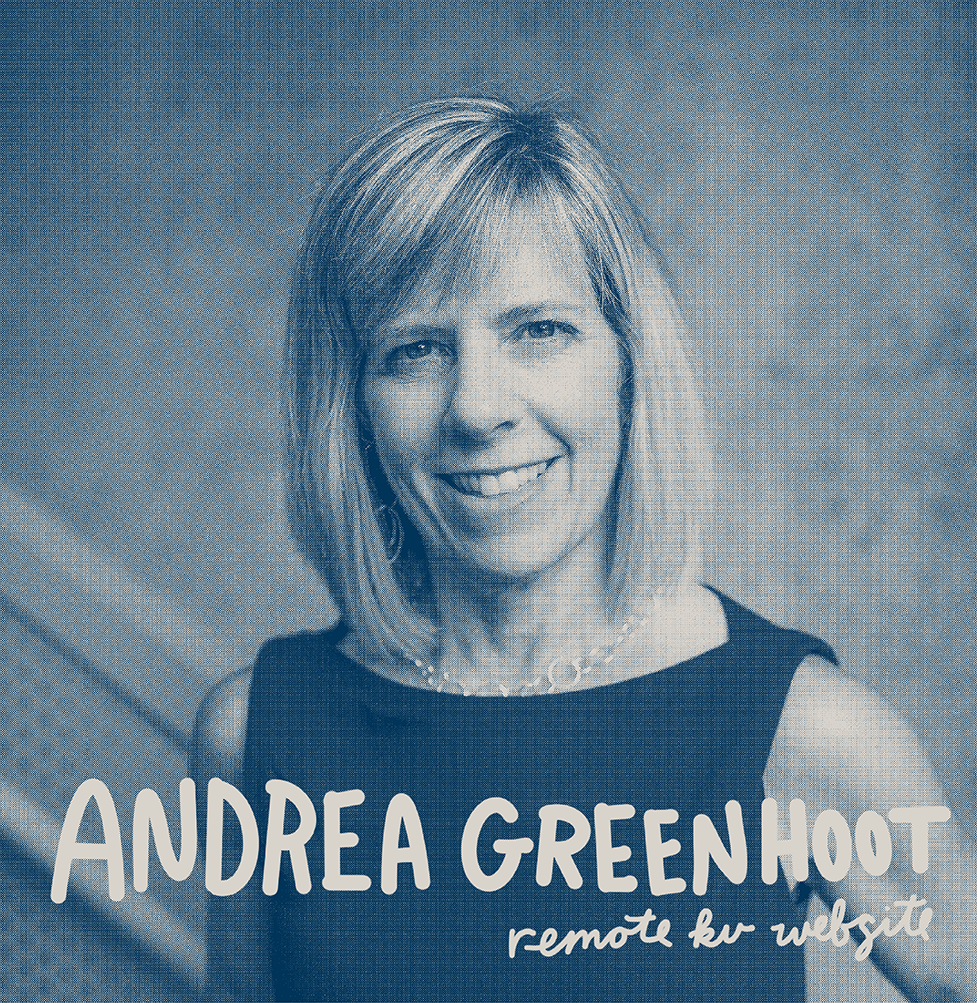 Even before Delgado and her TAs began their work, Tonnies and the response team were ideating what a rapid transition to online learning would look like, and how they could help instructors with that process. They grabbed one of the tools on hand, KU's content management system, and began creating the remote.ku.edu website during spring break.
"We literally built the structure and the introductory pages in two days," said Andrea "Dea" Greenhoot, CTE Director & Gautt teaching scholar and professor of psychology.
Greenhoot is no-nonsense with a heart for helping KU's faculty deliver their vast knowledge to the thousands of students who trek to Lawrence each year. She ably dodged an effort to get her to wax poetic about the work that went into helping move an entire university online. Perhaps she was made for this challenge. Like so many, one of her first tasks was to become a pro at something she'd had little experience with, but she chose to dive in without reservation.
Speaking about the CTE team in the early days of the response, Greenhoot said, "It was just me and Doug (Ward) at first. Just the two of us." Many team members were out of town during the planned week of spring break.
"I will tell you that before that first week, I did not know how to build a webpage," Greenhoot said. "But by midweek, I was uploading the content I was creating by the hour." 
By the time spring break should have ended on March 15, the website was fully realized; and it continued to grow over the semester with new information for faculty, students and staff.
In addition to the website, when classes resumed on March 23, the CTE team, along with the CODL team and the Educational Technology team and other KU IT staff, had developed brand-new online teaching workshops and a faculty leadership council that took part in numerous one-on-one consultations and faculty discussion groups – far more than would have occurred in normal times. The straightforwardness of this recounting belies the hours and hours of brainstorming and work that went into the effort; especially considering that Greenhoot and other faculty on the response team were also transitioning their own courses.
Adapting their own classes to online teaching helped Greenhoot and her faculty team understand how to better support their colleagues. The main challenge was lessening the burden on instructors.
"We didn't want faculty to go back to square one," Greenhoot said. "That would have been way too disruptive. Instead, we focused first on the instructors' perspective: 'How do we use what's been built and come up with easy substitutions?'"
If the semester were going to end well, the focus had to be on reframing and rethinking, not rebuilding. But if faculty were the focus of the initial push, it was in the name of serving students.
"One of the things that served KU during this move was we have a really engaged core of faculty who care deeply about student learning and who care about teaching well," Greenhoot said.
But it's one thing to care about student success and another to actually do the work of discovering what students and professors need to attain good outcomes.
"I'm thankful KU had the forethought to survey faculty and students very early in the process," Greenhoot said.
Through national networks related to teaching excellence, teaching improvement and undergraduate education, Greenhoot heard from colleagues at a lot of other universities that didn't do their first surveys until late April.
"Our surveys were out at the end of March and the results were pooled quickly," she said. "We were able to use the results to then inform the programming we led centrally out of CTE. It was tremendously helpful to have feedback from both the professors' perspective and the students' perspective because some of the students' most urgent needs were really best addressed through the faculty." 
----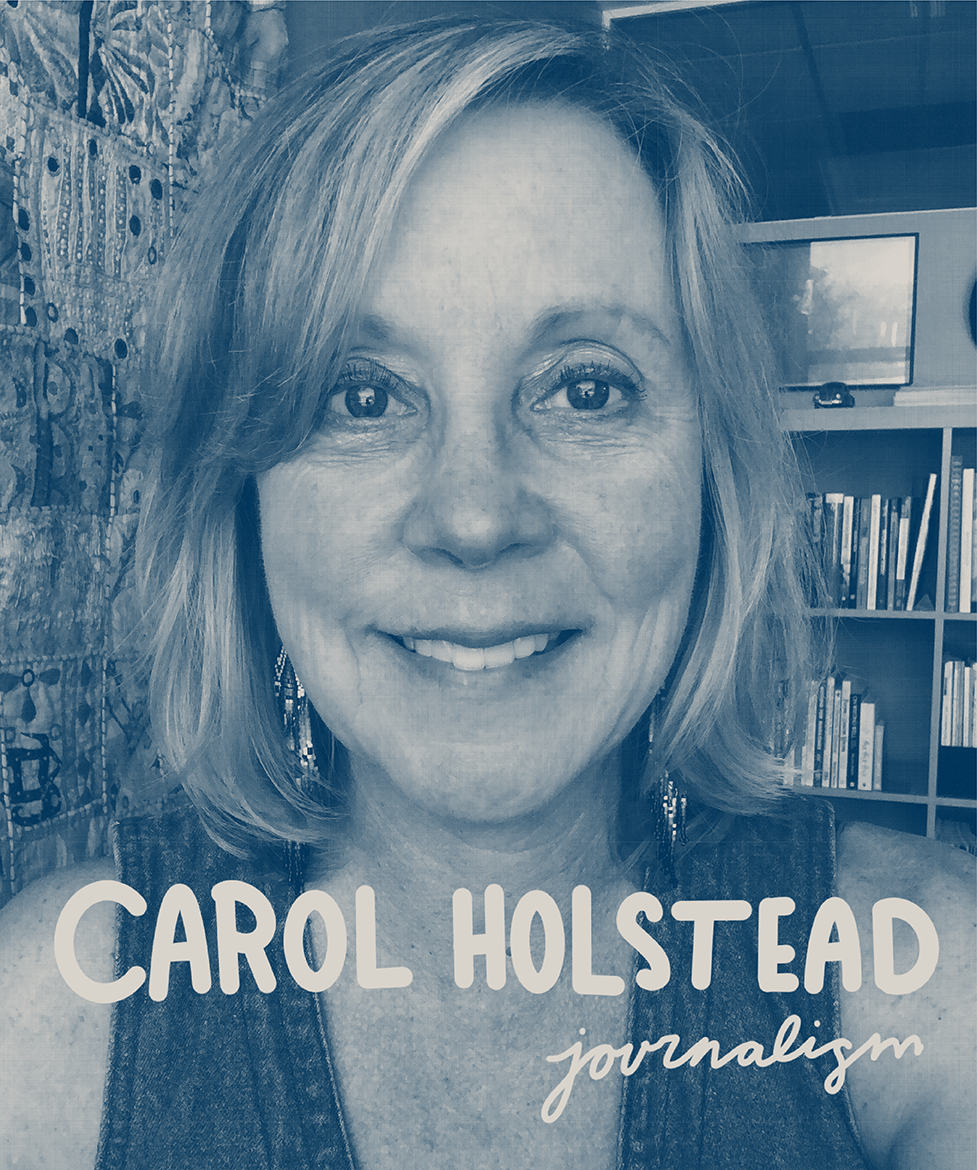 Much of the feedback from faculty and students throughout the semester was how difficult the transition was to online teaching and learning, both academically and emotionally. Creating a personal connection with students was much more difficult for instructors at a distance. And students, separated from friends and classmates, needed more support than ever.
"I would start every class by asking them how they are doing," said Carol Holstead, professor in the School of Journalism and Mass Communications. "When I'd email, I'd ask how they were doing. Any time I sent an email to a class I would say, 'Please reach out to me if you are having any issues. You can talk to me about anything.' I made myself very emotionally available to them, but I am that person."
Holstead, whose seemingly casual nature charmingly complements a steely concern for her students, is, indeed, "that person." While the pandemic proved a challenge, she naturally fell back on a set of soft skills that are valuable in times like these. In the end, curriculum remained important, but just how important was it if students weren't in a position – or state of mind – to learn?
Holstead is not one to look away and she call things as she sees them. With a view into her students' lives thanks to Zoom, the wellbeing of some of her students quickly became a rising concern.
"I had this one student, she would always come to class 'extra.' Super-talented, super-focused, very driven, would come to class every day like she was dressed for a job interview. I loved this young woman, Alana."
Alana Washington was in Holstead's magazine writing class and was uncharacteristically behind. Very behind. She'd added the class late and hadn't caught up when students were told they would not be returning to in-person classes for the rest of the semester.
"I had to have a conference with Alana about a story of hers for the online magazine Chalk. We had class just before this conference and she had been just lying in bed through the whole class at three in the afternoon. I said to her during our conference, 'Alana, the next time I see you, you have to be sitting up with clothes on!' I was teasing her, but I said, 'You have to get your (act) together!'"
----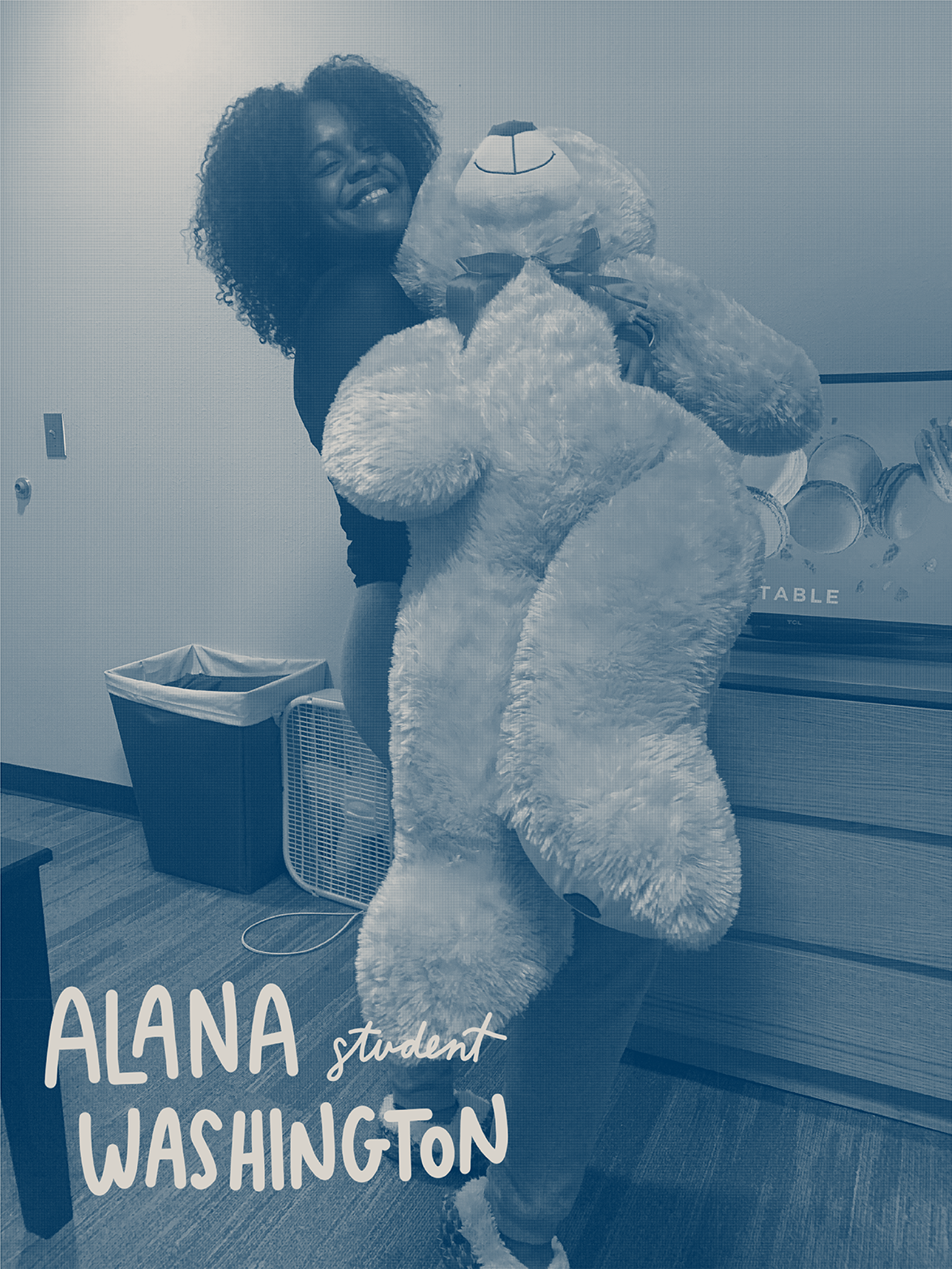 "Honestly it was pretty crazy from the jump," Alana Washington said, speaking from her parents' home in Shawnee Mission. Washington is soft spoken but a real go-getter. A journalism major and senior with just one class to go, she writes for the University Daily Kansan'sChalk magazine and is talented at her craft. But even those at the top of their games were caught off guard by the pandemic.
"I was already overwhelmed with everything, then the pandemic happens, and I think I'm going to die. I was just done," Washington said.
Holstead and Washington are close; Holstead raves about Washington's work ethic and Washington can't say enough about how much she admires Holstead. When asked about Holstead's blunt "intervention," Washington confirms the words with a quiet laugh.
"She said 'Alana, you need to create a routine. You need to get out of bed. You need to dress for class and then you need to get your (act) together.' That's literally what she said."
Washington is from a large family and stayed home after the extended spring break with her parents and six brothers, leaving behind an apartment that had fully provided for her needs as a student.
"I'm used to doing school at school. My apartment is my peace. It's my workplace, where I find my schedule. … I like to have a routine there and my routine got so messed up. I would literally be on a Zoom lecture in bed with my bonnet on and with my life-sized teddy bear," Washington said.
But Washington pulled through, and she credits her success to the openness of Holstead and other professors.
"The journalism school professors are very open and very kind, but they're very real and treat you like you are in a career already," she said.
To help Holstead and her colleagues support the mental and emotional health of students, Greenhoot and the response team added information to remote.ku.edu about how to support struggling students.
That personal connection was key for Washington. She has just one class to complete for graduation and is taking the summer to regroup. She looks forward to returning, whether virtually or in person, to finish her academic career and become a KU grad. Looking back over the experience, she has no regrets.
"Even with all that's happened, I would never have chosen to go anywhere else," she said. "Even if I don't go straight into a journalism job I think I will be prepared for any job."
----
Pushed into the deep end of online learning, students like Washington, as well as faculty and staff, did what Jayhawks do – they met the challenge head on, persevered and successfully completed one of the most unusual semester in KU history.
As so much changes around us, KU and other institutions must figure out "Where do we go from here?" Leading the way for KU are faculty and staff who are taking lessons learned over eight weeks in spring and helping instructors and the university create a more robust and engaging learning experience, both in-person and online.
As Tonnies and his colleagues on the response team help faculty prepare for an uncertain fall semester, he reflected on the efforts called forth during the spring semester.
"When I think about what happened, I just think about how many people did amazing things," Tonnies said.