Lumen N. Mulligan
---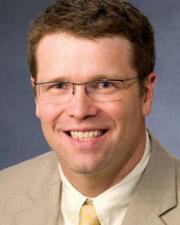 Interim Vice Provost for Faculty Development
Earl B. Shurtz Research Professor of Law
Biography
—
Lumen "Lou" Mulligan joined the KU Law faculty in 2010, where he teaches predominantly civil litigation courses. In the ensuing years, KU Law students have recognized Mulligan for his teaching several times, including awarding him the Dean Frederick J. Moreau teaching and mentoring award, selecting him to serve as their graduation hooder, and as their commencement marshal. He was named as an Earl B. Shurtz Research Professor in 2019. Mulligan also teaches undergraduate classes in the KU Honors Program.
Mulligan has authored or co-authored four books and treatises on jurisdiction and procedure. He publishes in prominent legal journals as well, including articles in the Michigan, NYU, Northwestern University, Washington University, UCLA, and Vanderbilt Law Reviews. In addition, he often writes for the bar-association press. State and federal courts at all levels cite Mulligan's scholarship regularly. He speaks frequently at academic, professional and CLE events. He served as a visiting professor at the University of Aberdeen, Scotland in 2014.
Mulligan oversees KU Law's Medical-Legal Partnerships, which aid low-income clients and provide law students with field placement experiences, at both the Lawrence Memorial Hospital and the KU Hospital in Kansas City. He directs KU Law's 3+3 program, L.E.A.D. Mulligan formerly served as the director of the Shook, Hardy & Bacon Center for Excellence in Advocacy. He served as associate dean for faculty from 2016 to 2019.
In addition to his duties at KU Law, Mulligan served, or continues to serve, on the Kansas Judicial Council – Civil Rules Advisory Committee, the executive committee of the appellate section of the Kansas Bar Association, the U.S. Tenth Circuit Court of Appeal Criminal Justice Act Panel, the board of directors for Kansas Legal Services, and the Kansas Court of Appeals Mediation Study committee. Mulligan frequently offers testimony to the Kansas legislature as well.  Mulligan continues with representation in court, most often in an amicus curia or pro bono capacity.
Prior to coming to KU Law, Mulligan was an associate professor at Michigan State University College of Law, where the student bar association recognized him as an outstanding instructor, and was an assistant professor of business law at the University of Michigan School of Business. His legal experience includes co-founding Stowell & Mulligan PA, working as a litigation associate attorney at Polsinelli, LLC, and serving as a judicial clerk on the U.S. Court of Appeals for the 10th Circuit.
Education
—
J.D., University of Michigan
magna cum laude, Order of the Coif
M.A., University of Colorado
B.A., University of Kansas
Graduated with Honors