J. Christopher (Chris) Brown
---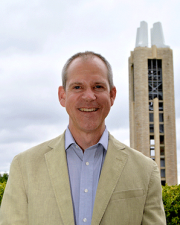 Vice Provost for Faculty Development
Contact Info
Strong Hall, room 145
1450 Jayhawk Blvd.
Lawrence, KS 66045
---
Biography
—
J. Christopher Brown began his role as vice provost for Faculty Development in July 2017. He is also a jointly appointed professor in the Department of Geography and Atmospheric Science and the Environmental Studies Program. He was previously director of the Environmental Studies Program from 2008-2017, and was promoted to professor in 2015. Before joining KU in 2001, Brown was a lecturer at both the University of California, Los Angeles and Santa Monica College.
In his work in Faculty Development, Brown believes in supporting faculty at all stages in building rewarding careers. To do this, he is working to simplify faculty affairs processes, build supportive faculty partnerships, and initiate a networked model of mentoring, development, and engagement opportunities for faculty, by faculty. Brown collaborates closely with the Office of Diversity & Equity and other administrative partners at KU. He was also recently invited to serve as one of 5 members of the inaugural APLU Advisory Committee on Faculty Affairs.
Brown's academic research interests cover a vast spectrum and include the political and ecological dynamics of development and conservation, political ecology, land-change science, biogeography, development institutions and policy, and nongovernmental organizations. His regional expertise is in Latin America, especially the Brazilian Amazon. He is a prolific author with nine book chapters, 34 journal articles, and more than 50 conference proceedings and presentations to his credit. He has been a reviewer for two dozen journals spanning the natural sciences, social sciences and humanities.
Brown has been an active participant in university activities, having served on search committees, the University Sustainability Advisory Board, the University Strategic Planning Steering Committee and the Kansas NSF-EPSCoR management team. He has been a faculty mentor and host for visiting Fulbright Scholars and more recently has served on the Office of International Programs Campus Fulbright Committee. He has also served on numerous administrative and search committees within the College of Liberal Arts & Sciences.
Brown has received several KU honors including the George and Eleanor Woodyard International Educator Award in 2016, the John C. Wright Graduate Mentor Award in 2008, and the Kemper Fellowship for Teaching Excellence in 2006. He was a Center for Teaching Excellence Faculty Fellow in 2003. At UCLA he was co-winner of the Dissertation Year Fellowship and a Fulbright Fellowship.
Brown earned a doctorate in geography from UCLA and a master's in Latin American studies and a bachelor's in biology, both from KU.