Addison Keegan-Harris
---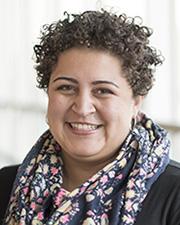 Director of Strategic Initiatives for Diversity, Equity, Inclusion & Belonging
Contact Info
Strong Hall, room 151
1450 Jayhawk Blvd.
Lawrence, KS 66045
---
Biography
—
Addison Keegan-Harris (she, her, hers) is from Topeka, Kansas and attended the University of Kansas where she earned her bachelor's degree in applied behavioral science and leadership studies. After graduating, Addison realized she wasn't ready to leave Lawrence just yet, so she worked at the KU Institute for Leadership Studies (ILS) within the College of Liberal Arts & Sciences. During that time, Addison stayed engaged across campus by advising Future Leaders in Healthcare and founding the Women of Color Retreat. Those experiences helped her realize she was ready for her next step.
In 2016, Addison moved to East Lansing to begin her student affairs administration master's degree at Michigan State University. In her two-and-a-half years in "The Mitten," Addison worked as a graduate assistant for diversity and inclusion in MSU Residence Education & Housing Services, where she was responsible for diversity programming and support for the 16,000 students who lived on campus.
Addison returned to Mount Oread in October of 2019 as the administrative associate for Diversity & Equity. In April 2021, she was promoted to director of strategic initiatives. In this role, Addison works closely with the vice provost on projects to improve campus for our most marginalized students, staff, and faculty.
When not at work, Addison enjoys walking the trails at the Clinton Lake Dog Park with her spouse and their 9-year-old rescue, Primrose the Dog. She is only slightly ashamed to admit that she loves bad reality tv shows and butter pecan ice cream. Ask Addison about her favorite places to eat in Lawrence, current audiobook read, houseplant collection, and her doggo!
Education
—
B.A. in Applied Behavioral Science - Organizational Behavior Management, University of Kansas, 2014, Lawrence, KS