Distinguished professor to present on scholarly examination of indigenous studies, communities
---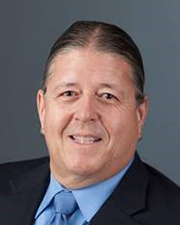 Hall Distinguished Professor of American Literature and Culture Robert Warrior will deliver his inaugural distinguished professor lecture Wednesday, Jan. 24, at the University of Kansas.
His presentation "Home and Away: Indigeneity and the Spaces of Critique" strives to explain how and why the work of the critic remains essential to the future of indigenous communities. The free event, which is open to the public, begins at 5:30 p.m. in the Big 12 Room of the Kansas Union.
"Home and community have been guiding beacons during the development of Native American and indigenous studies over the past several decades," Warrior said, "especially as scholars have insisted on bridging the distance between academic programs and the people and places in the Native world whose realities they reflect." The presentation will provide a critical overview of the work of indigenous studies in providing spaces in which scholars can do intellectual work that is connected to the world it seeks to impact, he said. "One basic aspect of engaging in academic criticism is tending to the infrastructure and architecture of the space in which the intellectual work is being done."
Warrior, who holds joint appointments in the departments of English and American Studies, joined the university in 2016. He has taught at Stanford University, the University of Oklahoma, and more recently at the University of Illinois, Urbana-Champaign. Warrior has written and presented extensively on Native American literature, American Indian intellectual history, social movements and activism, as well as the field of Native and indigenous studies.
He is the author of "Tribal Secrets: Recovering American Indian Intellectual Traditions" (University of Minnesota Press, 1995) and "The People and the Word: Reading Native Nonfiction" (University of Minnesota Press, 2006), and coauthor of "Like a Hurricane: The Indian Movement from Alcatraz to Wounded Knee" (New Press, 1996), "American Indian Literary Nationalism" (University of New Mexico Press, 2008), and "Reasoning Together: the Native Critics Collective" (University of Oklahoma Press, 2009).
He is a past president of the American Studies Association and was the founding president of the Native American and Indigenous Studies Association. He currently co-edits NAISA's journal Native American and Indigenous Studies and the Indigenous Americas series at the University of Minnesota Press.
Warrior holds a doctorate and a master's degree from Union Theological Seminary, a master's degree in religion from Yale University, and a bachelor's degree in speech communication from Pepperdine University. He is a member/citizen of the Osage Nation.